Talk about a pain in the behind. For the past two days I have been melting and filtering beeswax! I have been super excited with what 2012 has in store for me. Not only on a business aspect but also on a more personal aspect. I have been battling many demons for a long time, and I am finally getting help.
I am hoping this new journey not only brings me something to do besides being online, but also helps me make a more personal connection with others in my community.
I know it will bring my daughter and I closer, because she will of course be helping, she says she needs money to purchase monster high dolls. However, this momma has a little something more up her sleeves. This is the perfect time to teach my daughter about money, and how to save! I think with teaching children at a young age it will help them become more responsible when they get older.
Of course, it is okay to splurge now and then. But I think she needs to know her main responsibility as an adult is unfortunately bills, and all those wonderful expenses that comes a long with being an adult.
Want to see the pretty filtered beeswax?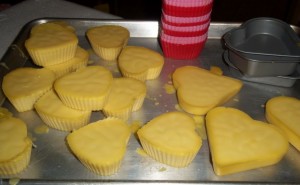 I would one day love to have a bee farm. Bees produce so much that is good for us! But until that day, I will purchase from a local beeskeeper.