Since my daughter was little we have always had a small themed birthday party for her. This year her small birthday party was shared with my niece who also shares the same birthday. They got to enjoy the day at the beach, and both said it was the best birthday ever! With my other niece's birthday being in the winter, her birthday's never seem as fun. So when DiscountPartySupplies.com asked if I was interested in doing a review I jumped on it. With this being our first year back in Michigan in 8 years, and this being the first actual birthday party we have attended for my niece, I wanted to make this special.
We decided to go with the Hello Kitty Party Supplies! I mean who doesn't like Hello Kitty, we even got my nephew in on the fun.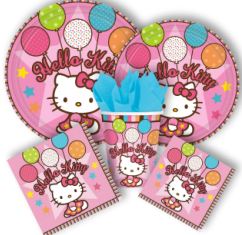 We received the Hello Kitty Ultimate Party Pack, I was surprised on how fast these products got to me, and all the great goodies inside. I knew my niece would be super excited.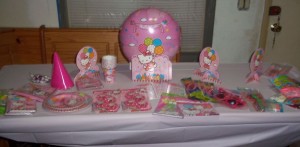 She didn't know what to think when she came out of the bedroom and seen the room all done in Hello Kitty. She decided she needed to help, so she started blowing up balloons.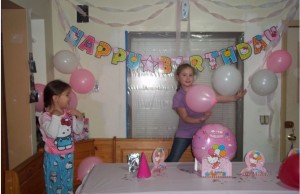 We even invited hello kitty! Okay so not really that is my baby niece that shares the same birthday as my daughter. They're all Hello Kitty fans!
And we cannot forget the fun hello kitty game that came with the pack.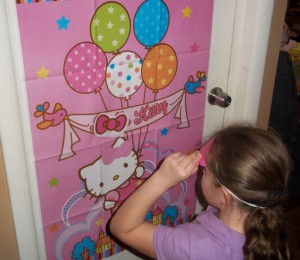 The goal was to put the bow on Hello Kitty, as you can see my niece missed it by a long shot. After the sticker was placed on the bow properly we decided to trick them. They could feel for the bow after all. So we made them study the picture, then put the blind fold on. We then said place the bow on the green star, or the pink balloon. We had to have some fun right?
Discount Party Supplies has over 400 unique party themes, and offers free shipping on all orders over $65. I can honestly say their prices are very reasonable. Don't forget to sign up for their newsletter where you will find out about any special discounts, and giveaways they maybe offering.
Connect with Discount Party Supplies via Facebook and Twitter.
 We received product for review purposes only, no other form of payment was received. This is our honest opinion.