Michigan has been experiencing some above average temperatures, so we have been taking advantage of it and hanging outside more. However, after tonight we are suppose to get cold, and some snow. So far this winter we have seen less than 6 inches! I have become so use to the Southern winters, I am not sure I can handle these winters up North. I know I will be grabbing my blanket, some popcorn and relaxing in bed while I catch up on some T.V.
That's one thing I can say, I have to have some sort of T.V during winter to keep me entertained. I recently learned of a new television series called Royal Pains. How many of you watch Royal Pains? I personally have never seen the show, but I have seen previews and always wanted to watch it. What better time to start then NOW. Royal Pains will be going into its 4th season on Wednesday January 18th at 10/9pm central on USA. If you are an avid watcher get those DVR's set, you will not want to miss the season premiere. New and exciting things are coming to the Hamptons.
Brief Summary:
The series follows Hank Lawson, a young emergency room doctor who, after being wrongly blamed for an important patient's death, moves to the Hamptons and becomes a reluctant "doctor for hire" to the rich and famous. When the administrator of the local hospital asks him to treat the town's less fortunate, he finds himself walking the line between doing well for himself and doing good for others.
Need a recap? Check out the video below.
To learn more about Royal Pains, and other USA Network series be sure to like them on facebook.
That isn't all! One lucky reader is going to have the chance to win a $100 Royal Pains prize pack!!! Are you excited?
Make sure you tune in on Wednesday January 18th at 10/9pm central on USA.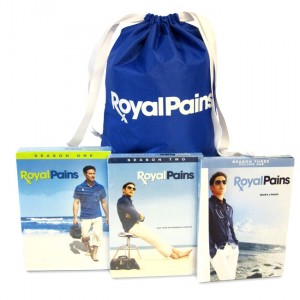 ROYAL PAINS DVD Pack – $100 Value  
–                 Season 1 DVD
–                 Season 2 DVD
–                 Season 3 Vol. 1 DVD
Mandatory: Head over to USA Network, and tell me something you learned about Royal Pains. Or something you like about the show.
Want Extras?
2 Extra each! Make sure to leave 2 comments per extra you do.
Like USA Network on Facebook.
Follow Royal Pains on Facebook.
Follow USA Network on Twitter.
Follow The Neat Things in Life on Google Plus
Follow me on Google Plus.
Like The Neat Things in Life on Facebook
Subscribe via email.
Follow me on twitter.
Daily Entries
Stumble, Like, Tweet, Google + the post.
Make sure to leave a comment for each you do.

Example tweet: Enter to win a Royal Pains gift pack! (ARV: $100) @Jammie79 http://www.theneatthingsinlife.com/?p=8050 #royalpains #giveaways
Giveaway will end on 1/26/2012 @ 11:59pm EST, winner will be drawn via and the winner is plugin. The prize was provided by USA Network, but USA Network is not a sponsor, administrator, or involved in any other way with this giveaway. I will also receive the same prize pack. Contest open to US residents only.