Last night I finally made some candles woohoo! All my other containers are currently in storage, I am hoping to have enough money to get a bit more wax before we head back south. I have to say I love making beeswax hand poured candles. I love the smell of the wax as it is melting and as it is setting.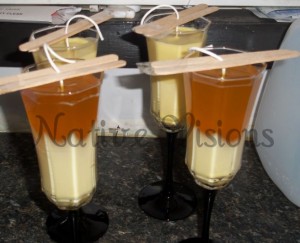 Look at how pretty those look as they are cooling!
The whole process is simple, and the end results are amazing. I cannot wait to get my other containers from storage! I have some pretty awesome looking glasses. For 6 of the candles I used the Luminarc France Black Stem Octagon Octime Wine Glasses, and the last 2 I used a neat margarita glass.
The first set of candles have about 6 ounces of beeswax each, the next set about 10 ounces, and the last ones roughly 5 ounces. All candles are made with all natural wax, the wax comes from a local beeskeeper. That is one thing about Michigan they have a lot of natural resources, and I love it. I am not to sure I will be able to purchase beeswax local in Tennessee, I will have to look into that more once I get back home.
What sort of candles would you love to see me make?