How many of you have got those eye exams done? Unfortunately, I have not went in yet to have my eyes checked. Yes, I know I was due for an eye exam almost 5 months ago, however, I cannot currently afford the eye glasses, so have yet to get in for the exam.
Great news though! I recently learned of the $6.95 prescription eyeglasses that Zenni Optical carries, so I may be hinting around to my husband to get me a pair this Valentine's Day! I am the type of girl that doesn't like flowers and candies. Many people have asked why, and to be honest, candies make me fatter, and flowers end up dying. So when it comes to receiving gifts, I prefer something that is needed and will last awhile.
What perfect Valentine's Day gift!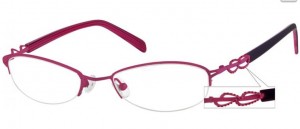 I think out of all of the Valentine's glasses at Zenni Optical the above are my favorite. They cost $19 and are super cute. One thing I do like about Zenni Optical's is the affordable prices. I know it helps out a lot, most insurance companies will only allow you one pair of eye glasses a year.
Being able to purchase eye glasses at a cheaper rate will ensure you always have eye glasses, with being a mom, I don't know how many times I would get my glasses and less then 6 months later they be broke. Specially when my daughter was younger!
If you are in need of new glasses, but the economy has you in a jam, check out Zenni Optical, and get your glasses for cheap. They offer several stylish pairs, for extremely reasonable prices.