So if you follow my blog, you may know my family discovered Geocaching back in November. We got my sister hooked to it, and with all the nice weather we are currently having, my family has been spending a lot of time in the woods. Hiking and of course geocaching. In the past few days I have walked over 8 miles! My feet are killing me right now, and I have a nice blister on my toe.
However, what is fun without a little pain right?
Tuesday my husband, daughter and I went out to the hiking trails we ended up coming across 2 snakes, and some loud geese.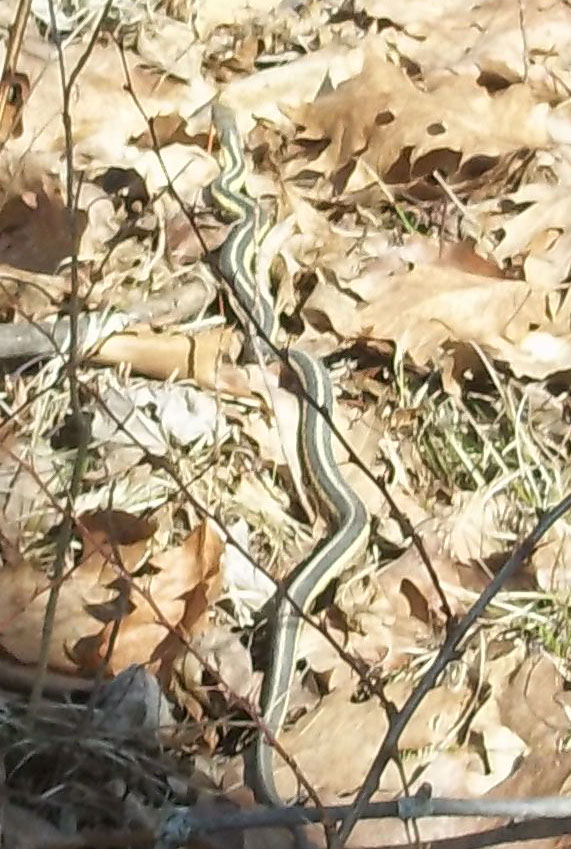 Isn't he so cute? Okay pretty scary when you almost step on him!
Now let me tell you about when my sister and I went yesterday! Our little gps systems were telling us to turn. So I assumed it was at the canoe place, because we were suppose to be going down a "nature trail" and well there was a trail… and I almost stepped on a dead snake, and I screamed so I assumed we were on the right track. We has like 2500 feet to go until we found the geocache.
We then come to a big open field, at this time we had about 2200 more feet. My sister the whole time saying she don't think we were suppose to be there… so okay we go back into the woods, when we come to a stream and we know we need to be on the otherside, because it is on the other side of the darn river.
We come to a fence… nice area looks like it is set up for a nature walk. So we climb the fence and think we are good to go! We start walking this "trail" we see lots of nice areas, when we see a dog, and he is not happy. My sister kept saying we are in the wrong spot, no pets are allowed on these trails, and well there is a dog barking at us. So there is a trail, and I am like lets take this one… we are finally like 1300 feet from it, when we discover we are on someones property. We see their home, and their business… SO we turn around, and this time my sister almost steps on a snake LOL…
We follow the trail aka driveway toward the highway, because we are parked at the canoe place… we get up there and a fence blocks us… this fence is to high for us to climb, so we back track to the part we crossed at went through the peoples field, back to the car… we were lost for an hour!!!
I remembered when we got into the car the right place where we were supposed to be, and my sister and I decided we were not going to be done until we found this geocache… so we went back to the house got the kids, and off we went… we hiked another 45 minutes or so, but we finally found it! That was one heck of a journey.
One of the main things I love about geocaching, is you discover new places you wouldn't have known about if you were not out looking for these geocaches. Plus, it is great fun that your whole family can enjoy…
I do want to get a better gps for geocaching. I love the one we currently have, but it is more of a simple one. I want one I can see more of my surroundings, an possibly upload the hints, and names onto the gps. The one we have is a basic one, tells the direction the size, and the terrain/difficulty level.
Anyone know of a great gps for geocaching let me know!