Did you know you can take Chef Boyardee and make it into something unique for dinner? I know with being a busy mom myself sometimes it can be hard to put a quick yummy meal on the table for the family that everyone will enjoy. With a little creativity though and a few ingredients you can make something the whole family will enjoy.
Chef Boyardee is currently hosting a contest! Make is Boyardeelicious Recipe Contest is going on now through March 11th. With the grand prize being a years worth of groceries. To enter get those creative minds thinking, head to the pantry get your favorite Chef Boyardee product out and get to whipping up a yummy meal. When you are done, take a picture then head over to Chef Boyardee's facebook page, and upload it. March 26th voting will begin for those who made it into the top10.
To help get my creative mind rolling I was sent a party pack to help get the word out about this great contest. Our party pack looked something like this…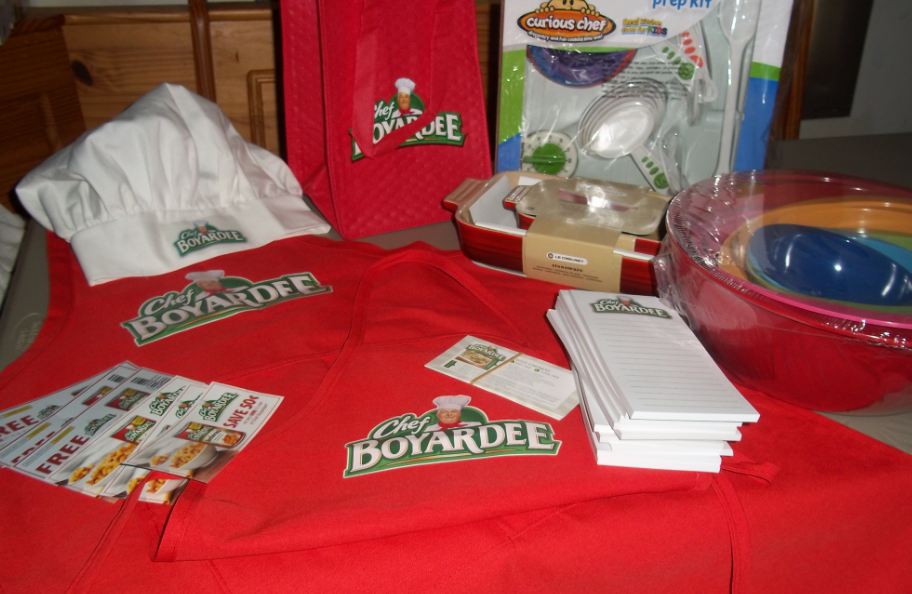 It included casserole pans, mixing bowls, coupons, measuring cups, an insulated bag, 2 aprons, a chef hat, and grocery list pads. Our party was a big hit, I showed my sisters how easy making an after-school snack could be. We all know when our children get home from school one of the first places they go is the fridge.
I had previously tried the Chef Boyardee Ravioli Lasagna recipe from the recipe section of the sit, and I wanted to put my own twist on it. What I made was a Mini Ravioli Lasagna. Sound yummy? Well it was super yummy, the picky eaters, and the adults loved it.
Mini Ravioli Lasagna
3 cans Chef Boyardee Mini Ravioli
16 ounce Cottage Cheese
1 can of Mushrooms
8 ounces of Cheddar Cheese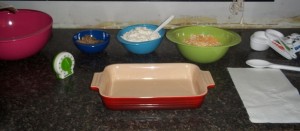 First setup your work area, having everything out you need to work with, will cut down on the time it takes to cook.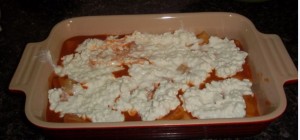 Second start layering for your lasagna. I do recommend you drain the access sauce from the cans. I did all but one, and wished in the end I had drained them all.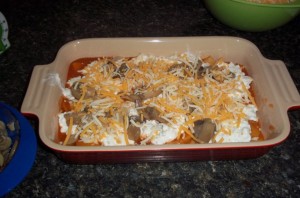 Yummy, isn't it starting to look delicious.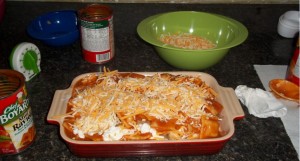 Almost ready for the oven. When you get ready to place in the oven, make sure you have it sitting on a cookie sheet. This will protect from any spillage.
Now we wait! In about 20 minutes you will have a yummy meal your family will love.

All done!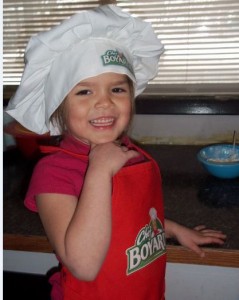 Don't forget to kiss the chef.
When making this recipe you can add other items, we have a lot of picky eaters or I would have added some black olives, and green peppers. One great thing about cooking, is you can experiment. I had choice to make this an after-school snack to show my sisters how easy and fast it was. If you want to make this into a dinner time meal, you can pair it with a salad and some breadsticks.
Now that I have showed you how easy creating yummy dishes can be while using Chef Boyardee products get busy, you got some free groceries to win!
For recipe ideas you can visit the Chef Boyardee recipe section. Once you have got it all figured out, get to cooking. Make sure to take a photo, and upload it by March 11, 2012. If you are selected as one of the top10 voting for your recipe will take place March 26-April 8,2012. Keep in mind winners will be chosen for one of the top10 spots based on creativity, all family appeal, ease of preparation, and palatable appeal by expert judges.
Voters will also get entered into a daily sweepstakes for a chance to win $100, if you share on facebook you will gain another entry.
Just click this LINK to submit your photo.
I wrote this review while participating in a In Home Party campaign by Mom Central Consulting on behalf of Chef Boyardee and received product samples to facilitate my party and review, and a promotional item to thank me for participating.