One thing I love about being self hosted, and on wordpress is the freedom I have with my blog. I am not limited to certain codes, and I have a ton of different plugins I can use to help better my blog and the security of my blogs. After I moved over to wordpress I noticed several bloggers getting "hacked". This form of hacking was bots randomly trying to login, and guessing the bloggers password. Once these bots/hackers gained access they installed trojans onto the site, and once someone goes to the site infected they also get infected.
Trojans/viruses are nasty and hard to clean from your computer let alone your blogs. Right then I knew I had to do what I could to make sure my site was secure. I went and googled different plugins that I knew would benefit my site.
One thing those should know when switching from blogger to wordpress, or even jumping right into wordpress from the start, when making your login NEVER use admin, and when making a nickname to show who wrote the post, never make it the same as your login. Here is why…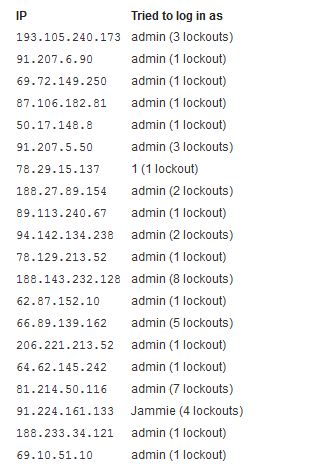 This is only a few of the failed attempts on this blog, I get several daily on both sites. Thankfully with Limited Login Attempts, I can set how many time one can"guess" a password before they get banned. I can also set for how long the ban is for… If you notice the main "login" being used is admin, they also have gone and tried with names I have posted under.
When it comes to the security of your blog you can never be too careful. If you are on wordpress, I strongly advice you to get limited login attempt to help better protect yourself from a hacker gaining control of your site due to password guessing.