We all know we are supposed to have 2 to 4 servings of fruit a day, and 3 to 5 servings of veggies a day… but let's be honest, how many of you actually get those servings in? Not me, there are many days I don't even get 1 serving of veggies, or fruit in. Fruit and veggies are extremely important to our everyday health. Did you know that not only are the veggies and fruits loaded with all those vitamins, and minerals are bodies need but so are certain herbs and spices!
What color is your smoothie, gives you ways to get in those veggies and fruit so that you are getting all those vitamins your body needs. This book comes packed with nutritional information and more than 300 different recipes.  You are sure to find something you like, and this will allow you to get in all those vitamins.
We made the Simple Strawberry Smoothie.
Makes 2 cups
2 cups strawberry
1 cup ice
1 cup water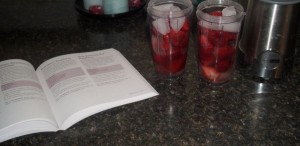 In a blender combined strawberries, water and half the ice. Blend add more ice to get the proper consistency you are looking for. Once it is done, drink and enjoy.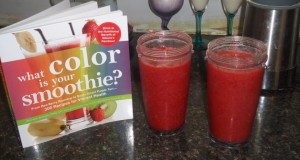 These smoothies are rich in vitamin A and C. Each serving contains 46 calories, 1g of protein, 1mg of sodium, 3g of fiber, and 11g of carbohydrates.
You can purchase What Color is Your Smoothie?: From Red Berry Roundup to Super Smart Purple Tart–300 Recipes for Vibrant Health
on Amazon for $11.41. This product also qualifies for free shipping with $25 purchase. This is a recipe book you want in your kitchen. If you are not one to drink smoothies, Summer is coming up fast make frozen treats with these recipes. Your kids will love them!
I received product for review purposes only, no other form of payment was received.