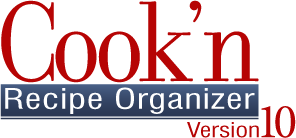 When I first discovered Cook'n, I got super excited! Why? Because I have so many cookbooks, and so many loose recipes laying around. I new this software would come in handy. My husband often fusses about all my cookbooks, but I have some favorites in them all so I have to keep them.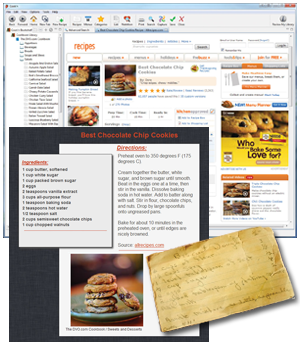 Cook'n is the The Easiest Way to:
After receiving the program, and getting it all installed. I watched a video to help me better understand the program. I learned there was so much I could do with this, and I was super excited to check it all out. I have to say there is several things I like about this program, and a few things I don't like.
I love how I can make my own cookbooks. Now I can take all my favorite recipes, and make them into their very own cookbook, I can also take a print out my favorite ones, onto recipe cards! This would make for some awesome Christmas gifts to family members! Another thing I liked about this program was the ability to take a recipe, and make a shopping list. The program gave me a list of everything I needed and what the cost would be. The cost is the cost for the product itself… Say you have a recipe that calls for olive oil, the shopping list will give you the price of a bottle of olive oil. This helps if you have none of the products on hand so you have an idea what the total price will be. I also liked the fact I could search for recipes within the program online, and once I found one I liked… I could capture it, and it would put it into the recipe format, and place it in the recipe book I wanted it placed in.
The thing I didn't like about this program, was the capture mode didn't work all that well. To me this wasn't a huge deal, but for some it maybe. I just simply made a few changes within the system, and it worked fine.
Over-all I love the program, and this will save me a lot of time once I get all my recipes organized… no more having to go to the cookbooks trying to remember where that recipe for the amazing chicken and dumplings is in.
Do you love cooking? Have way to many recipes to keep up with? How would you like to win a copy of Cook'n Recipe Organizer?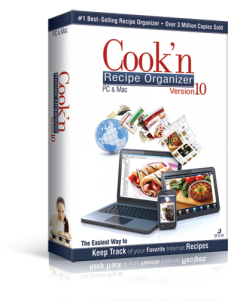 Giveaway is open worldwide and will end… May 12th.