If you are not familiar with GourmetGiftBaskets.com you are missing out!  They have pretty much everything, and their gift baskets are amazing. I have had the pleasure on a few different occasions to check out certain products of theirs, and I have to say I was impressed. I recently learned they carry baked goods as well!
Their baked goods include products such as brownies, cheesecakes, cookies, and cakes. We were lucky and was able to try their gourmet brownies!!!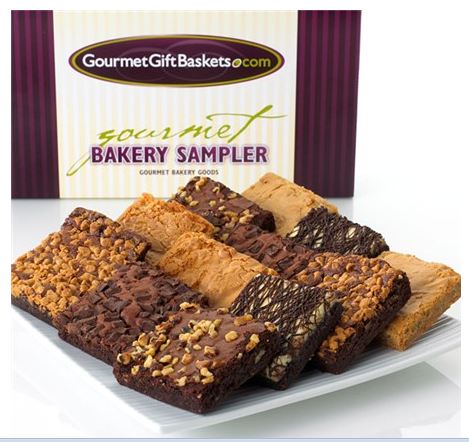 We received one each of the brownies listed below.
·Belgian Chocolate Chunk
·White Chocolate Macadamia Blonde
·Butterscotch Blonde
·Cheesecake
·Peanut Butter
·Fudge Walnut
Of course, my favorite was the peanut butter. One thing I liked about these brownies, is they come individually wrapped, and they're a pretty nice size. This allowed us to sample a little of each without over doing it. My husband and I both thought these brownies were amazing. We had to share them with the whole family or we would have put ourselves into a sugar high.
Gourmet Gift Baskets is one of those companies that helps others, and that is what I love about companies, those that do go out of their way when others are in need.
How would you like to try the same 6 brownies we were able to sample? Well, you're in luck. One lucky reader from The Neat Things in Life, is going to have their chance to win the same 6 brownies we had the pleasure in trying.
Due to this product being perishable, this giveaway is only open to the lower 48 states.
Mandatory: Follow Gourmet Gift Baskets on twitter, once you do leave your twitter name.
Want Extra?
Like Gourmet Gift Baskets on Facebook
Tell me what product you like best from Gourmet Gift Baskets.
Like The Neat Things in Life on Facebook
Subscribe via email.
Follow me on twitter.
Daily Entries
Stumble, Like, Tweet, Google + the post.
Make sure to leave a comment for each you do.

Example tweet: Enter to win 6 brownie samples from @GmtGiftBaskets  http://www.theneatthingsinlife.com/?p=9537 @Jammie79 #giveaways
Giveaway will end on 4/25/2012 @ 11:59pm CST, winner will be drawn via and the winner is plugin. Contest open to US residents in the lower 48 states only. I received samples for review purposes only, no other form of compensation was received.