I love cooking, and I love trying to recipes. One great thing about family is we all have different friends, and well that means we all have different recipes to share!
My sister shared one with me, that her friend showed her how to make. I am not sure what the true name is for these, or where the recipe originated from.
I am going to call them Jalapeno Bacon Wrap, when my sister first made these I thought I wouldn't care for them because they are jalapeno's and we all know jalapenos are spicy! I snuck one, and fell in love. So below is the recipe with pictures.
Jalapeno Bacon Wrap
14 Jalapeno peppers (get the ones WITHOUT the brown spots, unless you like them spicy)
14 Mozzarella Cheese Sticks
12 ounce Bacon
Rubber gloves
Toothpicks
First thing is first get those rubber gloves on! I made the mistake the first time I did these doing it bare handed. This caused for some burning hands. You are working with spicy peppers here. Once you have your gloves on cut the tops of the peppers, and slice them in half long ways. Once you have them all cut in half, now get a spoon and pull all the insides out. Remember the seeds make most the spice. So you want to remove all the seeds.
Once you have that all done, place the jalapenos in a bowl of cold water, and let them soak a little… My sister says this takes away some of the heat.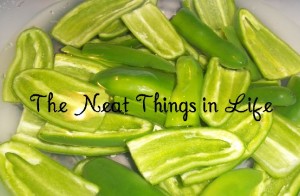 Preheat the oven to 375 F.
As the oven preheats cut your bacon, and cheese in half.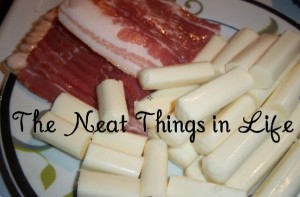 Now is the fun part, place one cheese into one jalapeno, then wrap with bacon and place a toothpick in to hold it into place. Place on baking sheet/rack. Continue until all of them are wrapped.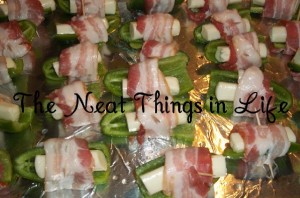 By now the oven should be heated, place in oven and let cook about 20 minutes. When bacon gets crispy they are done. Cook time may vary.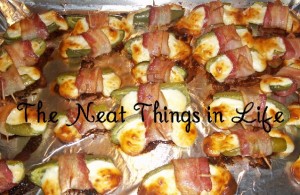 These are great for appetizers for events such as New Years Eve, Birthdays, Graduation and so forth.
Enjoy.