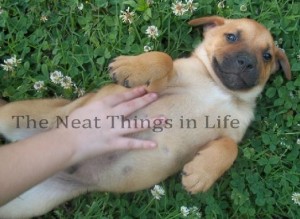 On May 9th we added Bones to our family. He is American Pit Bull Terrier and German Shepherd mix. He is the most sweetest puppy I have ever seen, and he is very smart. He was born on March 23rd, which makes him 7 weeks old. So far he has had only 3 accidents in the house! I am amazed we have not had more messes to clean. I even went and purchased some paper towels, and cleaning spray to get those messes as he makes them! But nope he holds it until we take him outside to go.
I will be doing more blogging about our new addition to our family. Many moms blog about new babies, however, I think Gillian is the only child we will be having. So we got her a fur baby and I don't regret it for a minute. So this mom will be blogging more about our awesome pup!
We are currently seeking puppy and dog products for review. If you have a product and you want to see reviewed by Bones please contact me with more information. All reviews will be Pinned on Bones pinterest board, tweeted, and posted to facebook.
Remember though Bones, is a boy so no pink or girly puppy items. :)