We have had Bones for 3 weeks an a day as of today. Tomorrow he will be 10 weeks old, I decided to do a compare from when we got him and to right now, he has grown so much!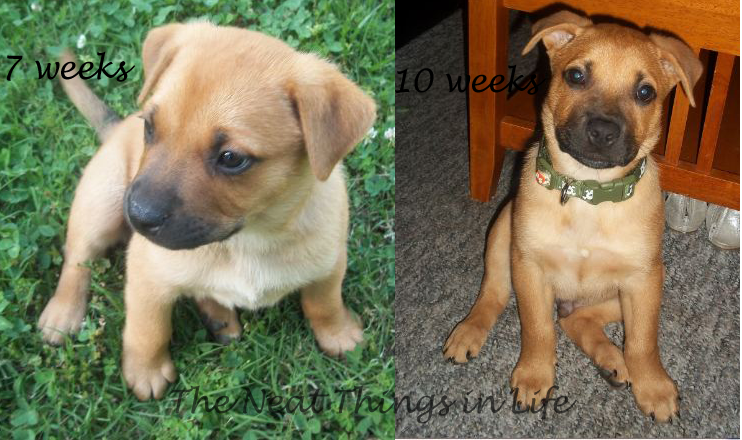 Look at how big he has gotten! When we got him he was about 9 pounds, he is now almost 14 pounds. I have a feeling he is going to be a rather big dog.
I could have never thought, I could actually love a dog as much as I love Bones. He is so smart, and he learns new things daily. When he wants a treat, or food he always sits. When we first got him he was all jumpy, he would attack the food bag while you tried to get him his food. When he is bad, tell him chair, and he puts his little head down and goes right to his chair.
He still has his pee accidents on the floor, I am hoping soon this will end, but to the most part he will bark at us when he has to go potty.
He also decided to piss on weight loss… I woke up the other morning to find he PEED on my bathroom scales… Guess he is wanting me to focus on other things rather than that number on those scales. Smart dog.
When he gets a bit bigger we will be walking buddies, right now when we walk and he hears another dog bark he darts back to the house, looking behind him all the way!
Are you a new pet owner? How are you liking the new adjustment?