With all the recalls on pet food and snacks we start to have second thought before purchasing store bought products for our pets. After all our pets are just like our children. We have only had Bones for about two weeks, but if anything was to happen to him I would be extremely upset. He has become a very important part of our family, and he knows it.
Just like my daughter I plan on spoiling Bones! After we got him I started looking online for some dog treats to make, and I found an awesome site. So when I was contacted by Able and Active I was a bit excited when I learned I was going to be reviewing several awesome items for Bones. One of them being the Hugs Pet Products Silicone Baking Tray! This was going to make, making those treats so much easier.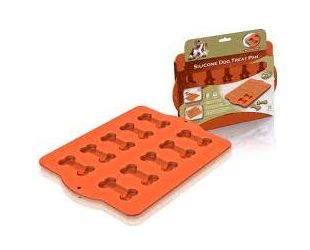 The hugs pet products silicone baking tray has a steel rim which makes using it that much nicer. It allows you to make 10 baked or frozen treats at a time,  and also comes with a few great recipes for making healthier snacks for your pup. You can purchase them over at AbleandActive.com for $17.99.
The treats we made were the Frozen Peanut Butter treats, the reason for making these is because we live in the South and it can get pretty hot. I wanted Bones to have a nice refreshing treat when we took him outside. Plus, who doesn't love peanut butter.
32 ounce Vanilla Yogurt
1 cup of Peanut Butter
Put the peanut butter in a microwave safe container and microwave it for about a minute. You want to make sure it is melted. Mix the peanut butter with the yogurt. I mixed it all into a bigger bowl. Then spoon into your dog bone tray.
Now place in the freezer and freeze.
Once they're done give your fur baby one.
Don't be afraid go ahead and try one for yourself. These are super good, I will not lie. I am sure you can switch them up some and use other dog friendly ingredients. Remember when making your pooch treats for the first time, make sure to watch them in case they maybe allergic to anything you used to make them their treat.
Bones and I give this 2 paws up!
How would you like to win a Hugs Pet Products Silicone Baking Tray?  Your in luck one lucky reader of The Neat Things in Life is going to win one of their very own, to help make yummy healthier treats for their fur babies.
Mandatory:
Head on over to AbleandActive.com and tell me something else you liked or learned.
Want Extra?
Like Able and Active on Facebook
Follow Able and Active on Twitter
Like The Neat Things in Life on Facebook
Subscribe via email.
Follow me on twitter.
Follow me on Pinterest.
Daily Entries
Stumble, Like, Tweet, Google + the post.
Make sure to leave a comment for each you do.
Example Tweet: Enter to win a silicone dog bone baking tray from @AbleandActive #win #puppylove  #giveaway http://www.theneatthingsinlife.com/?p=9930 @Jammie79
I received the hugs pet silicone baking tray for review purposes only, no other form of payment was received, and other opinions will vary. Giveaway is open to US residents ages 18 and older. Giveaway will end on June 7th at 11:59pm CST. Winner will have 48 hours to respond before a new winner is drawn.