With having a puppy he is very active, all he wants to do is play, play and play more. Okay, so he likes to sleep a lot as well. However, just like us humans we have to make sure our pets have plenty of water while playing. With the hot Summers, our fur babies can die of dehydration such as humans can.
One toy I like is the Hydro Bone.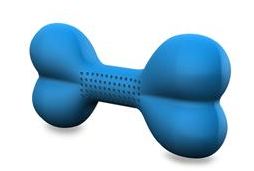 The hydro bone is a one of a kind chew toy. It's for dogs and puppies 6 months and older. However, our puppy is 2 months and he loves it, it works out great with him teething because not only can you soak this bone in water and let them play with it like that, you can also freeze it. The hydro bone has a foam core and it absorbs water. As the dog plays with it the water is slowly released through the special holes. This making it a must have toy during the summer months. This will help assure your dog is getting something to drink.
This toy shouldn't be substituted for water. You can purchase the hydro bone at AbleandActive.com for $11.69. This is one toy you will be glad you bought, and well worth the money.
Bones and I loved this toy. Bones thought it was neat that water came from the holes. It was pretty funny watching him try to carry it around the yard. This has become one of his favorite toys. I think he likes it better when it is frozen. I have to say though I love the fact that it hold water, because in Tennessee it gets really hot, and with having a puppy that loves playing I like the idea of having a toy that supplies him with a little water as he plays.
Bones and I give this 2 paws up!
How would one of you like to also own the hyrdo bone? Well you're in luck, one lucky reader of The Neat Things in Life is going to win their very own Hyrdo Bone for their pet.
Mandatory:
Head on over to AbleandActive.com and tell me something else you liked or learned.
Want Extra?
Like Able and Active on Facebook
Follow Able and Active on Twitter
Like The Neat Things in Life on Facebook
Subscribe via email.
Follow me on twitter.
Follow me on Pinterest.
Daily Entries
Stumble, Like, Tweet, Google + the post.
Make sure to leave a comment for each you do.
Example Tweet: Enter to win your pet a hydro bone from @AbleandActive #win #giveaway http://www.theneatthingsinlife.com/?p=9928 @Jammie79
I received a hyrdo bone for review purposes only, no other form of payment was received, and other opinions will vary. Giveaway is open to US residents ages 18 and older. Giveaway will end on June 5th at 11:59pm CST. Winner will have 48 hours to respond before a new winner is drawn.