How many of you have a hard time walking your dog? I know when I was in Michigan the bigger dogs I walked didn't properly know how to walk. A lot of times they walked me. When I was contacted to review the instant trainer leash I had to say yes. I knew we were going to get a dog soon so I needed to be prepared.
I was hoping we would have been able to test this product on my sister's dogs. However her dogs have run of the back yard and don't were collars. Plus, we were in the process of moving.
We just got us a puppy and I have finally had the chance to check the instant trainer leash out. (I sort of lost the paper in the move on how to properly put it on the dog. I think I have it on properly but I am not certain.)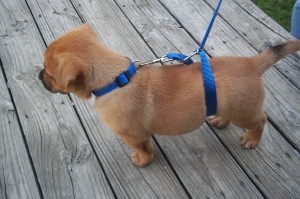 When we tried walking Bones with just a leash he would pull to get away. When we put on the instant trainer he calmed down and relaxed. With the Instant Trainer Leash, I know when our puppy gets a bit older he will not be pulling our daughter, and when she walks him she will have better control. I love that! I know with the bigger dogs in Michigan she wouldn't walk them because they did pull her.
I also love that it's Vet and dog trainer approved, I wouldn't want nothing that could cause my dog harm, and thankfully it is a product that will not cause my daughter harm when she takes him out for potty breaks.
Instant Trainer Leash comes in two different sizes one for dogs 30lbs and under and one for dogs 30 pounds and over. You can purchase instant trainer leash online for $19.99 plus shipping and handling.
If you have a hard time handling your dog while you are walking I highly recommend the Instant Trainer Leash. Get your dog the much exercise he needs while still maintaining control of him.
I received product for review, no other form of payment was received. All opinions are mine.