Living in the South means we will have some pretty hot days this Summer. It can be pretty unbearable to me, I can only imagine how unbearable it can be for our puppy. When I discovered the pet gel mat I was excited to check this out for our puppy. I want Bones to be comfortable this Summer, and not all hot and depressed.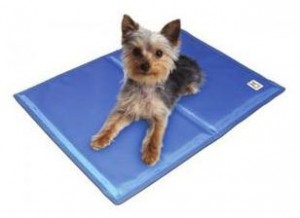 The gel mat is not only durable, but also lightweight and portable. It can be used indoors or outdoors, and fits any size pet. I say pet because not only is this mat great for your dog, it can also be used for cats and bunnies. The gel inside the mat creates a lower temperature then your pet. This keeping your pets body temperature down.
If you have a pet that has bad joints, this is also great for them. I sat on this mat to see how it worked and my behind got pretty cool. The mat comes in small/medium and large. It can be purchased from AbleandActive.com for $19.99 for the small and $29.99 for the large. This is well worth the price to help keep your fur baby cool this Summer.
We let Bones check this out for himself to see what he thought, he has his own chair so of course the mat went into his chair…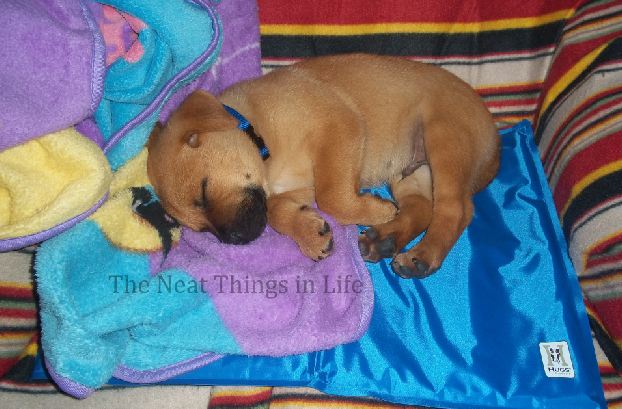 I think it's official Bones approves the Pet Gel Mat. Don't believe me?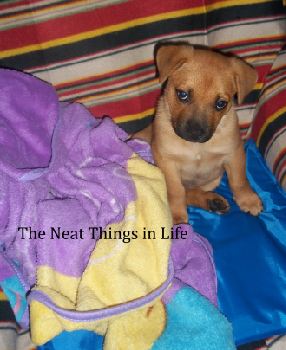 Just look at that face, I think that is the face of approval, well at least the face of approval from Bones. My husband said he was going to take it and use it with his pillow. Not a bad idea, but I don't think Bones will let that happen.
Being  proud momma to this cute little guy it makes me happy knowing he can sleep comfortable. I know when we sleep we need the a/c on or we just toss and turn. I am sure the same goes for dogs. I love how this helps keep them cool, and I know Bones likes that as well.
Bones and I give this product 2 paws up!
How would you like to win a Gel Mat in size large for your fur baby? Well, one lucky reader of The Neat Things in Life is going to do just that!
Mandatory:
Head on over to AbleandActive.com and tell me something else you liked or learned.
Want Extra?
Like Able and Active on Facebook
Follow Able and Active on Twitter
Like The Neat Things in Life on Facebook
Subscribe via email.
Follow me on twitter.
Follow me on Pinterest.
Daily Entries
Stumble, Like, Tweet, Google + the post.
Make sure to leave a comment for each you do.
Example Tweet: Enter to win your pet a gel mat from @AbleandActive #win #giveaway http://www.theneatthingsinlife.com/?p=9919 @Jammie79
I received a pet gel mat for review purposes only, no other form of payment was received, and other opinions will vary. Giveaway is open to US residents ages 18 and older. Giveaway will end on June 3rd at 11:59pm CST. Winner will have 48 hours to respond before a new winner is drawn.