I have to say our puppy Bones has been a great addition to our family. He is such a baby! Last year if you told me we would have a puppy right now I would have called you a liar. I honestly never wanted a dog because of the huge responsibility, and the pooping in the yard. However, after being around my sister's dog I new we had to get one. We have only had Bones for a little over a week, but he knows we are his family.
Since we never owned a dog before I never new about all the new little gadgets they have for dogs. We were recently sent a Puplight2 to review. I have to say this thing is neat!
First, let me tell you a bit about the puplight. Puplight was founded by Jackie Simoni in 2003, Ms. Simoni was out walking her dog while trying to juggle the leash, flashlight, poop bag, and bug spray. If you walk your dog at night, you can understand where Ms. Simoni was coming from.
Puplight has won several awards since it hit the market, the first one being in 2004. American Pet Products Manufacturing Association named the puplight one of the top 12 new products! Not only did the puplight win that award in 2004, but also 2005. Since then they have won several other awards as well!
Now after being on the market for almost 9 years puplight is launching puplight2. Puplight2 is twice as bright plus comes with a reflective collar.
Why should you get puplight2 for your dog? For many reasons, if you let your dog out at night puplight2 can help scare away other animals, and protect your fur baby from vehicles they may not see them. Puplight2 will also be of great advantage to YOU if you walk your dog at night.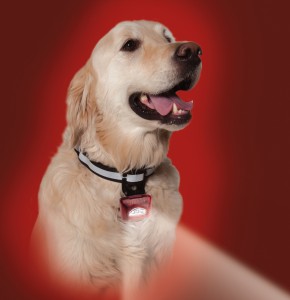 Puplight2 is made with your pet in mind. It comes with a 2 part adjustable reflective elastic collar. It takes 3 AAA batteries which makes it nice, because you can use rechargeable ones. It also has a fur guard so that your dogs fur doesn't block the light.
One thing I loved about the puplight2 was the fact you don't have to use the collar that comes with it, you can use your own collar. I also like that it does allow our puppy to see better when he is outside at night. Now I know I can go for a walk at night and not have to worry about getting hit by a car, or coming across a wild animal. I know the light will spook them back to the woods.
I also have to say Bones LOVED the puplight2. He thought he was pretty cool out there chasing the cats.
The cats didn't know what to think with seeing a little puppy running after them almost blinding them.
It was funny watching the puppy chase the cats with his light. He thought he was pretty cool! Puplight2 will start shipping at the end of May and come in several different colors.
Bones and I give this product 2 paws up!
Want to win one? One lucky reader of The Neat Things in Life is going to win one for their fur baby!
Mandatory:
Head over to Puplight and tell me something you learned.
Want Extras?
Like Puplights on Facebook
Tell me why you would like to win the puplight2.
Like The Neat Things in Life on Facebook
Subscribe via email.
Follow me on twitter.
Follow me on Pinterest.
Daily Entries
Stumble, Like, Tweet, Google + the post.
Make sure to leave a comment for each you do.
 Example tweet: Enter to win a puplight2, help your dog see at night. #win #giveaways http://www.theneatthingsinlife.com/?p=9911 @Jammie79
We received the puplight2 for review purposes no other form of payment was received. Giveaway is open to US residents and will end June 2nd, at 11:59cst.