Having a puppy is sort of like having a new baby. Routines have to be made, so that we all can adjust to our new lives. This means getting woke up in the early morning and having to take the puppy out for his potty breaks, and often times waking up to messes on the floor. This is something we all are getting use to.
Bones likes to sleep a lot, he is a growing boy after all.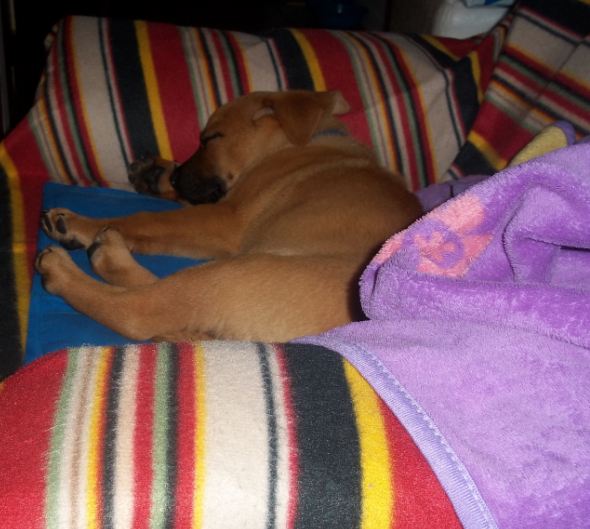 However, when Bones isn't sleeping he is playing. He loves learning new tricks, he currently knows sit, get in your chair, and he is learning shake. He also loves being chased and loves playing ball.
One of our morning routines with Bones, is he will come to our bedroom door and cry. I then wake up, I come out and usually take him out to go potty, if Gillian hasn't. If she has it is time to eat, and he knows it. He starts jumping like a crazy dog on the dog food bag, after a few rounds of sit, he stays sitting for me to get him his food.
This morning however was a bit different, he cried at my door, he jumped until I got him settled, but this time when I said sit, he landed his ass right in the water bowl! It was pretty funny, I don't think he was a bit happy to have a wet butt, however, he settled down and got his food.
I never thought owning a puppy would being joy to our family. I always looked at a puppy as more responsibilities then I currently wanted, however, I think this little guy is going to help me lose weight. He is very active and if ya don't keep up with him he cries.