I suffer from Arthrosis in both knees, and I am currently taking Meloxicam so that I can manage to do my normal everyday activities. It was only recently that I discovered I had Arthrosis. I have suffered from this for awhile now, as I walked it felt as though my knee caps were twisting. I would always get sharp pains that were unbearable. Going up stairs were almost impossible.
When we moved in with my sister for that short time I was walking stairs several times a day. That is when I new I had to get in and get something done about this issue. Xray's were done, and I was given the news. Since taking Meloxicam the pain has reduced a lot, however, taking pills to help me manage is not my cup of tea. I am currently taking so many different pills it's no fun.
I recently got several topical pain relief products in the mail for review. I honestly didn't think it would work well, so when I decided not to take a pill and to put on a Salonpas Arthritis Pain Patch instead, I was a bit worried. After I had it on for a bit I could tell it was helping, it didn't completely take the pain away, but neither does my pills.
I love the fact that these will help me with my pains. If you suffer from back pain or arthritis I highly recommend these products. I was expecting the sprays to be greasy, however, they spray on easily and there was no mess!
With my husband and I being more for all natural ways to help with pain, I can see myself trying to get off my pain pills, and to go all natural with topical.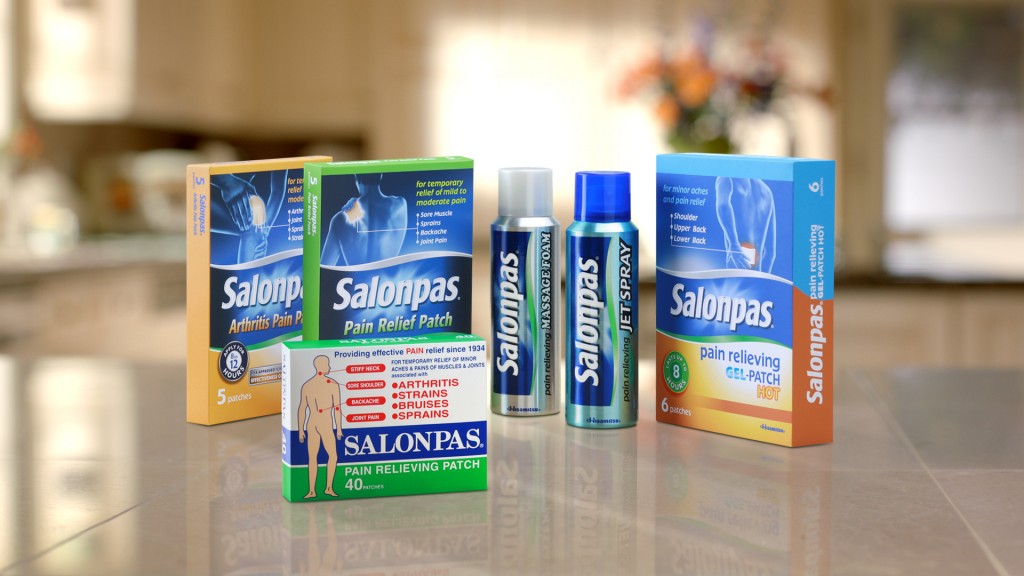 A little about the products:
* Salonpas Pain Relieving GEL-PATCH HOT-L introduces the healing powers of pepper, representing a medical advancement in patch therapy by featuring capsaicin (0.025%) and menthol (1.25%) in a soothing cloth that is ideal for relief of minor aches and pains in the shoulder, upper back and lower back.

* Salonpas Pain Relieving Massage Foam delivers a new pain relief sensation for tough pain. The massage foam combines the benefits of self-massage with a powerful, clean-drying medicine provides relief for even tough pain. With active ingredients menthol (3%) and methyl salicylate (10%), the Salonpas Pain Relieving Massage Foam is an easy-to-use topical analgesic that delivers pain relief in seconds.

* Pain sufferers can now experience a blast of cooling pain relief with Salonpas Pain Relieving Jet Spray. When you experience pain, you want fast relief. With active ingredients menthol (3%) and methyl salicylate (10%), this is an easy-to-use topical analgesic for the temporary relief of minor aches and pains associated with strains, sprains, bruises, simple backache and arthritis. Using a highly pressurized jet force, the Salonpas Pain Relieving Jet Spray delivers a strong cooling effect to the skin minus any greasy feeling or messy drip.

* The Salonpas Pain Relief Patch and Salonpas Arthritis Pain Patch, now in sleek new packaging, are the first and only FDA-approved OTC pain relieving patches, and manufactured using new ultra-thin Comfort Stretch™ technology that provides effective pain relief for up to 12 hours.
Salonpas topical pain relief products would make a great gift for those dads out there that have those aches and pains after a long day of work.
One lucky reader of The Neat Things in Life, is going to have a chance to win the same products in the above picture.
Mandatory:
Head over to Salonpas site and tell me something you learned.
Want Extra?
Like Salonpas on Facebook
Follow Salonpas on Twitter
Like The Neat Things in Life on Facebook
Subscribe via email.
Follow me on twitter.
Daily Entries
Stumble, Like, Tweet, Google + the post.
Make sure to leave a comment for each you do.
Example tweet: Enter to win $50 worth of Salonpas Topical Pain Relief products. #win #giveaway http://www.theneatthingsinlife.com/?p=9894 @Jammie79
I received the listed products for review purposes, this is only my opinion, no two people are the same and others will vary. Giveaway is open to US residents 18 and older. Giveaway will end on May 31st at 11:59pm CST winner will have 48 hours to contact me back or a new winner will be drawn.