How many of you love to cook? I DO! I have probably 15 cookbooks if not more, I have found several recipes in each one that I love. I am sure I could find the recipes online, but I happen to like actually seeing it in print in front of me with pictures. Recently, I was contacted about doing a review on Taste of Home: Cooking School Cookbook: 400 + Simple to Spectacular Recipes
. I didn't have to think about this one. Of course I did. With my love for cooking, and my passion to learn new things in the kitchen. I knew I had to get a sneak peek at this new cookbook.
When it arrived the first thing I did was sit down, and started to flip through the pages. I first discovered how to properly measure liquids, this cookbook also shows you how to properly measure those pesky liquids like honey. It shows you some staples you should have food wise, and also has a guide for cooking with popular herbs.
One of my favorite parts of this cookbook is the teaching. For instance, there is a recipe in here for Challah which is a Jewish bread. On the side of the recipe it shows you how to properly braid this bread. Which I am thankful for because I would have put it in a bread pan and baked it. Several of the recipes show you how, you should prepare them. There is a meatball recipe that shows you how to get the same size meatballs each time.
I know this cookbook is going to be one of my favorites, everything is sectioned off perfectly. With today being Cinco de Mayo I decided I wanted to make a Mexican dish. I found two different ones but decided to go with the more healthier one.
So I made Fabulous Taco Salad…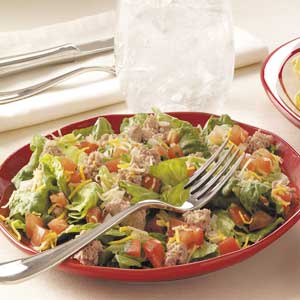 Fabulous Taco Salad
4 ServingsPrep/Total Time: 30 min.
Ingredients
1 pound extra-lean ground turkey
1 medium onion, finely chopped
1 teaspoon olive oil
3 garlic cloves, minced
4 plum tomatoes, chopped
1/4 teaspoon salt
1/4 teaspoon pepper
1/4 cup minced fresh cilantro
6 cups torn romaine
1/2 cup shredded reduced-fat Mexican cheese blend
1/2 cup salsa
Directions
In a large nonstick skillet over medium heat, cook turkey and onion
in oil until meat is no longer pink. Add garlic; cook 1 minute
longer. Stir in the tomatoes, salt and pepper; cook for 3-4 minutes
or until tomatoes are tender. Remove from the heat; stir in
cilantro.
Divide romaine among four plates; top each with 3/4 cup turkey
mixture, 2 tablespoons cheese and 2 tablespoons salsa. Yield: 4
servings.
Nutrition Facts: 1 serving equals 224 calories, 6 g fat (2 g saturated fat), 55 mg cholesterol, 467 mg sodium,
11 g carbohydrate, 3 g fiber, 35 g protein. Diabetic Exchanges: 4 lean meat, 2 vegetable, 1 fat.
Every taco salad I have had, has been with tortillas. So when I seen this recipe, and seen it was a healthy taco salad I had to try it…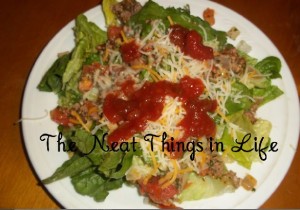 All I have to say is YUMMY! This is a recipe I will be making more often, and my family loved it. Did you see a serving only has 224 calories!
With more than 400 recipes and step by step instructions by the experts this is a cookbook you want in your kitchen.
You can purchase Taste of Home: Cooking School Cookbook: 400 + Simple to Spectacular Recipes
on Amazon for $10.98.
For more great recipes from Taste of Home be sure to follow them on Facebook, Twitter, and Pinterest.
I received the above cookbook for review purposes only, no other form of payment was received, and this is my honest opinion.