The wasps in the South are meaner than the wasps in the North. This has to do with the heat, in the area I live we have those red wasps. They HURT when you get stung by them, and when I say they are bad… I mean they are bad!!! With loving all the other products made by Terro, I knew we would love their new wasp & hornet killer.
My husband is currently working on fixing an old shed we have on our property. He new there was going to be a massive amount of wasps in there, but he didn't know what else he was going to find! He found mice, a bird nest with new birds and eggs, and a snake (water moccasin)!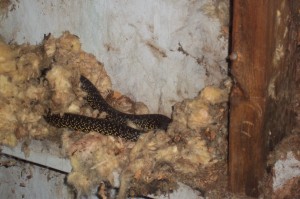 However, first thing was first… Kill the wasps. We had never used the Terro Wasp and Hornet spray until this day, so we really didn't know what to expect. My husband was amazed… he came in the house and told me this is the safest hornet spray he had ever used. He said he sprayed the hives, and it instantly started to foam up, trapping the wasps. He said after a short time the wasps started dropping dead from the nest.
Watch the short video to see for yourself how this product works.
Other hornet spray you spray the nest only to make them mad, and as I said we live in the South. You make a group of these red wasps mad, you have them all chasing you. With Summer fast approaching the wasps are going to start being seen more, you want to destroy their homes, before they start to invade yours!
TERRO Wasp & Hornet Killer is sold at leading retailers nationwide and on the company's website at http://www.terro.com. It retails for $5.99 and is by far the best wasp/hornet killer spray we have ever used. For more information about the wasp & hornet spray you can visit the company's Facebook page at www.facebook.com/TerroDeadAnts or email expert@terro.com.
Terro products range in price, and are well worth the investment.
Two readers of The Neat Things in Life are going to win a can of Terro's Wasp and Hornet spray.

Mandatory: Head over to Terro's website, and tell me what other product they carry that you love, or tell me something you learned.
Want Extra?
Like Terro on Facebook
Follow Terro on Twitter.
Like The Neat Things in Life on Facebook
Subscribe via email.
Follow me on twitter.
Daily Entries
Stumble, Like, Tweet, Google + the post.
Make sure to leave a comment for each you do.
Enter to win a can of Terro Wasp & Hornet spray @Jammie79 #win #giveaway http://www.theneatthingsinlife.com/?p=9710
Giveaway will end on May 17th at 11:59pm CST and is open to the lower 48 states. I received product for review purposes only, this is my honest opinion.