How many of you are registered over at swagbucks.com? How many of you have no idea what SwagBucks is… Well, let me explain, swagbucks.com ROCKS.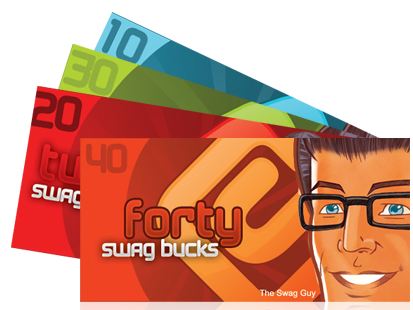 Swagbucks is a earn points, and redeem for cash and prizes. Earning the rewards is rather simple, there is a few ways you can do this. One being when searching for different things online you use the swagbucks.com search engine. Doing so will give you a chance to randomly win some swagbucks. These bucks vary in amount, but quickly add up. I currently have 1,591 points, and I am waiting to trade them in for a big prize. I was thinking maybe a gaming console, or an ipad.
Other ways to earn points is by following Swagbucks on twitter, facebook, and/or their blog. They like throwing out codes here and there which can be entered in over at swagbucks.com. The amounts often depend I have had points range from 1 to 20, again this is a quick way to get those points up there to be traded in.
If you are not a current member of swagbucks, you can become one by signing up. Sign-up is pretty easy and only takes a few minutes. Just head over to Swagbucks.com and fill out your information. After you have it filled out be sure to use code JUNETASTIC to get 70 swagbucks!
Although, this post was written by me for a chance to win some prizes, I love swagbucks, and you can see my current amount in the "Got Swag" section at the footer of my blog. So what are you waiting for help a girl win some awesome swag by signing up with my referral link… http://www.swagbucks.com/refer/JammieM Did I mention my birthday and anniversary is coming up in 3 weeks!