I have certain products you will find in my bathroom at all times. These products help me keep things in check. Of course I have more than five items in my bathroom, but these are the ones I will not remove and/or run out of.
5. Bathroom Scale – I have one in the bathroom and one in the laundry room. This helps me stay focused on my weight loss. With out these products where they're at I would have done lost focus and losing weight is a must.
4. First-aid Kit – While some people don't feel the need to have one on hand. I also have a very stocked first-aid kit in the bathroom. Never know when those bees will sting or the kiddo will skin her knee.
3. Toilet Paper – You will always find a large amount of this in my bathroom. I don't know about you but that whole "be a man use your hand thing" is not flying in my house. I will not get stuck on the pot for hours until someone comes to the rescue and brings me some toilet paper!
2. Trash Can – I hate going in the bathroom and finding wads of toilet paper on the bathroom counter from my wonderful daughter applying her make-up, removing her make-up and reapplying. The trash can is staying and she better learn to start throwing her trash into it. Or she will be on bathroom duty until she is 18 years old!
1. Antibacterial Soap – I guess you can say my family don't like germs. You will also find some sort of antibacterial soap in my bathroom. After all when my daughter gets hurt the bathroom is the first place we go, wash the wound out and get the first-aid kit out to bandage her up.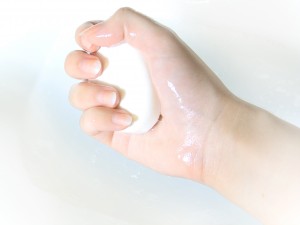 To avoid spreading germs we wash our hands often, you'll also find several bottles of germx through-out my home. We try to keep as many germs as possible from entering our home. That is one good thing about home schooling, we get to avoid all those germs those hundreds of kids bring into the school system everyday.
Did you know when a person sneezes they're releasing thousands of germs into the air? Yea, I think I will keep my antibacterial soap and germx on hand. No germs for this family.
What are some products that are a must have in your bathroom? Are you a germ freak like my family?