It is no surprise that more and more Americans are ditching their cable and satellite services and switching to services such as Netflix and Hulu. With the prices rising every year and the economy not showing any improvement, Americans have to drop services to afford other bills. Without completely losing their entertainment, they go with cheaper alternatives. One year's service of Netflix will cost a person about the same as one month's bill with DirecTV.
Recently, I had the opportunity in working with D-link again, this time with their new streaming media player. The D-link MovieNite Plus is jam-packed with over 130 apps and channels to make your life a little easier.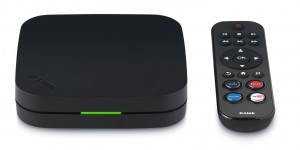 This unit may be small but it has a lot to offer. With having access to some of the most popular media streaming services such as, Netflix, Youtube, VUDU, Pandora, Hulu Plus (coming soon), and if you have a D-link camera you can even access that right from your TV. In order to watch Netflix you must have a subscription to the service.
I like many things about the MovieNite Plus. I love that it can be hooked up wired or wireless; this allows it to be easily moved. I also like the fact we can watch our shows in HD. The MovieNite Plus has the ability to go up to 1080p. Keep in mind if you want to utilize the hdmi feature on the MovieNite Plus you must have hdmi hook up as well as a hdmi cable. This is not required to use the device; you can hook it up using your standard audio and video cables.
The MovieNite Plus has a great weather app, which allows us to see what is going on outside when the channels have all lost signal.
With also having a D-link camera I like having the ability to switch to the app on my TV to see what is going on, we have the camera on our driveway; this allows me to see if any delivery guys are here, or if we have company. You can also view more than one d-link camera via the app in the MovieNite Plus unit, all you have to do is have it set up in your d-link account. I would love to invest in a D-link with night vision so we can catch the people hitting our mailbox.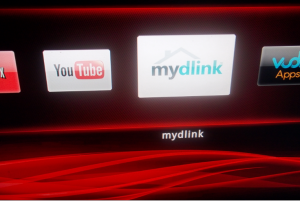 Whether you're looking for a way to eliminate some of your bills, or a way to bring in more entertainment for your family the D-link MovieNite Plus (DSM-312) would make a nice addition to your living room. My daughter loves getting on YouTube and streaming her Monster High shows right to the TV. While my husband likes being able to listen to Pandora radio as he helps me clean the house.
This device has a lot of entertainment you will enjoy. I cannot wait until it gets Hulu plus, then I can watch all the shows I miss during the day.
You can purchase the D-Link MovieNite Plus Streaming Media Player on Amazon for $69.99
Or you could win one here! One lucky reader of The Neat Things in Life is going to win their very own D-Link MovieNite Plus unit!