Can you believe Summer is almost over! It seems as if it only just began, going into the stores the aisles are full of not only back to school supplies but people! If you're like me you hate long lines, and crowded aisles. I try when possible to do all my shopping online, whether it be household items, or school products.
Not long ago I was introduced to a company that specializes in personalized products. They carry just about everything! Whether you want to get personalized school products, or personalize business products, they will probably have what you're looking for, growing up I disliked when other people took my things, and tried to say they belonged to them!

Over at Zazzle you can get your supplies personalized, then there will be no-one trying to claim your items!
Zazzle is the world's leading platform for quality custom merchandise. Their service allows brands such as Disney, Hallmark, major bands, and even individuals, to create unique product for sale. On top of all their other awesome items, such as invitations, clothing, mugs, back to school supplies, they also have a large selection of custom gifts.
Zazzle's tries to have all products made on demand within 24 hours. Now things can happen and they may not get them done within 24 hours, however, they do make that attempt. Zazzle's began in 2005 and is based out of California!
I had fun browsing all the neat designs by several artists. We were able to review a few items, and with my daughter being into Monster High I wanted to get something a long those lines. I found these cute skull and cross bones products and new she would love them. With her loving art, I had them personalized to her Art work.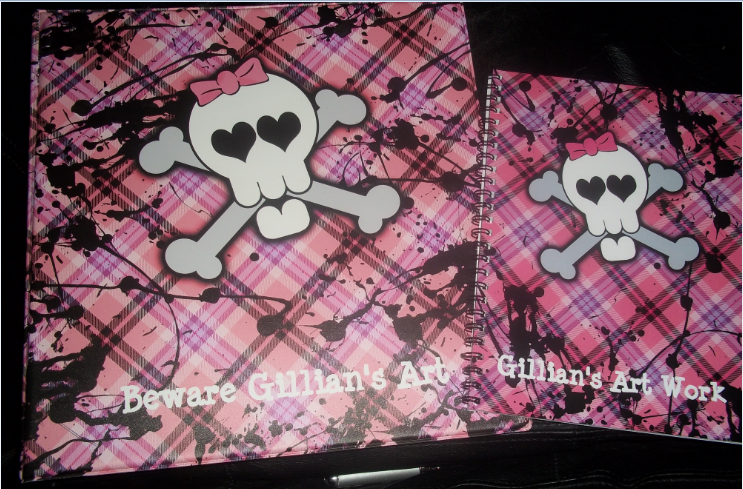 When they arrived in the mail she was super excited. My favorite is the binder. I love how the inside has 2 pockets, and it is bigger then your standard binder. These are great for those going back to school. I remember when I was in school I had one binder, and I would divide each section into my different classes. This made it easier than having to carry a binder for each class.
Over all I was very pleased with the product, and the quality of the products we were able to review. Heading back to school can often be difficult for some, so sending them back with unique custom items, can help get them back in the mood.