Never miss another win again! I am addicted to entering giveaways, I will not lie, however, sometimes a winning email slips through and I miss it, I am sure this has happened to you as well. I try to go through my emails, and when I see new giveaways open up I try to start entering when I see them, this is what I love about being subscribed to all the sites. However, with all the emails, comes missed emails saying I won.
So last night a friend asked if anyone knew how to block emails from being sent to you, I went turned to Google and found this article on how to use a filter to make the email address go right to trash. As I sat here today going through my email to see if I had any winnings, it hit me to look into this filter thing.

Step 1: Click on the gear in the upper right and corner in your gmail account, then click on Settings.
Step 2: Click on Filters
Step 3: Click on Create a new filter.

Step 4: Add a keyword to Has the words in it section. Only one keyword at a time, adding several will not work the way you want it to.
Step 5: Click Create filter with this search.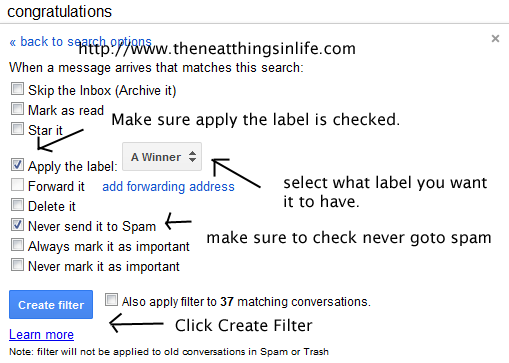 Step 6: In the top you will see your keyword, you want to make sure to check "Apply the label" also to select the label you want those emails to go. You also want to make sure the "Never send it to Spam" is checked.
Once you have completed those steps click Create Filter.

Now you have your first label. You can proceed to make additional labels, by clicking Create a new filter, then follow steps 4 through 6 until you have all the filters you would like.
Some filters to create:
Winner
Won
Congrats
PunchTab Giveaway
Your Name (for instance if your name is Jake, put Jake not Your Name)
Congratulations
After you have created all your filters, sit back and never miss a winning email again!

Once you login to your email, if you have any emails matching your filters you will see a number beside the label you wanted them to be marked as…

Keep in mind you will also get non winning emails in here, only because some bloggers will congratulate those that won on their blogs, so if you subscribe to their newsletter it will also go there…
I hope this post helps you all, as I know this will make it easier on me, when searching for winning emails. If this post has helped you please share it.
Warning: Be sure to check the label you have those filters going to before deleting emails. If you do a mass delete without checking you will delete those winning emails.