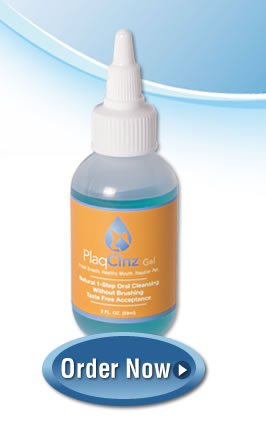 Have you ever been laying there and had your dog come up and lick you in the face, and all you could do was smell his stinky breath? I bet sometimes you feel the same way when your spouse rolls over and kisses you in the morning as well. Thankfully your spouse can go and brush their own teeth, however, for our dogs they cannot, so it's our job as their owners to make sure they have good oral care.
Did you know most dogs and cats will develop gingivitis by the age of 3?
This is why it's so important that we practice good oral health with our pets. If you have ever had a tooth decay, you are probably aware or the pain that comes with it, luckily for us we can take pain meds, and we know when we are in pain. While our pets may know when they're in pain, they cannot reach for a pain pill.
This is where Plaqclnz comes into play. Did you know bad breath in pets can mean a sign of oral disease, and if you use personal dental care with your pet, you can add on to his life!
Plaqclnz helps keep your pets breath fresh and protects from those nasty oral diseases. One thing that is great about this product, is several groomers have this product and can assist you in keeping your pets teeth clean.
We were able to check this product out, it was simple to use and doesn't take much time. A few squeezes into Bones mouth and he took care of the rest. For best results it is recommended to use daily. Plaqclnz has no alcohol, but has a Zinc and an amino acid complex which helps fight the harmful bacteria that can lead to gingivitis.
You can purchase PlaqClnz
online for a little over $15 at Amazon.com. One lucky reader of The Neat Things in Life is going to also have a chance to check this product out for themselves.
a Rafflecopter giveaway