Being a mom I want the very best for my daughter, I mean what parent doesn't want the best for their child. I want her to go to College and make something of her life. I hate to say it, but I don't want her to pass up on a great education like I did. I usually have no regrets in life, however, I can truly say I regret not furthering my education. If I would have did so I might not have the issues I have today. Often times funds for college can be hard to scrape up. With our economy the way it is, most of us are having a hard enough time making enough money to pay our everyday bills, let alone save for our child's college fund.
I have come to grips with the fact that if I want my daughter to be successful in life, I have to do my best to not only raise her properly, but also to guide her with her learning. With being home-schoolers it's my job to make sure she pulls awesome grades. I know if she can do awesome in school now, she has a great chance at getting scholarships when she gets older, and that in itself will help out a lot.
I have also been looking into getting some sort of savings started for her. This way when she does get older, she will have no excuse to not go to College.  One of the reasons I didn't further my education was because of lack of funds. When I turned 18 I got a job and started my life as an adult.  I want to have the funds for her to at least get her started. I think if parents start a college savings program for their children by the time they turn 18 they will have enough to get them started.
I have found the perfect site that will allow not only us parents to put money aside for our children, but also other family members, and friends.
College registry is a free program, and it makes it easy for family and friends to donate. We have to remember our children are our  future, and we need to do what we can as parents to make sure they succeed and grow up to be successful adults, and with college being so expensive it can be impossible to come up with the money on our own.
With college registry you can have family and friends donate small amounts of money in place of toys for birthdays, holidays, and other special events. With them doing this we know the money will not be wasted on useless items. I don't know how many times I purchased a toy for my daughter for it to only sit and not get played with. I would have much rather put that money towards her future. This service is secure, and donations can be sent directly to your paypal account, making it easy for you to put the money in your child's college fund.
One thing I like about this service, is it breaks everything down and keep track of how much is saved from both you and family and friends.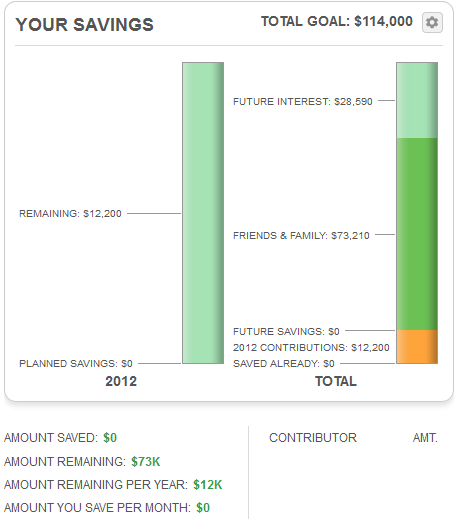 If you are unsure how much you will need for your child's education you can use a savings calculator. These are simple to use, and will give you a good idea of what it will cost. My daughter will be 11 real soon, and for her to attend four years at the University of Memphis it will cost roughly $114,000!!! I think that is more than I have ever made in my life, now that is sad.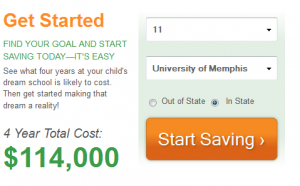 Have you thought about setting up a College Registry and letting friends and family help you meet your goals to your child's college funding needs so that your child will have no excuses when it comes time to further their education? With college costs getting out of hand and up almost 600% since 1980, we as parents need all the help we can get. They say it takes a village to raise a child, and although it may not take a village to raise your child, it may take a village to help reach the goals to send your child to college, so that they can further their education and become successful at what they love doing.
My daughter is wanting to work with animals when she gets older. So as a parent it's important that I help my child make her dreams a reality.
What are some steps you're taking to ensure your child has the means to attend college?