Mine and my daughter's legs are not a big fan of our puppy. He is in the jumping stage and no matter how much you get on to him, he doesn't know when stop. He gets very excited, and I would consider him overly hyper. I had mentioned something to my husband about wanting to get his claws removed, because he was leaving big marks on our legs, and they were hurting and deep.
So when I was contacted by SoftClaws to check out their product I had to say yes. I couldn't take the marks on my daughter's legs any longer. I chose to review the blue ones for Bones, I couldn't wait to get these in the mail to test them out first hand. When they arrived we clipped his nails, and applied the SoftClaws, they were really easy to apply once we got him distracted. We thought for certain he would try to bit them off.
However, he left them alone, and when he jumped with excitement on us, his claws no longer hurt. This was the product I had been wanting!!!
SoftClaws were designed by a veterinarian. They're vinyl nap caps, that you glue on your pets nails. Super easy to apply… These caps help prevent scratching on your floors, carpets, and even yourself!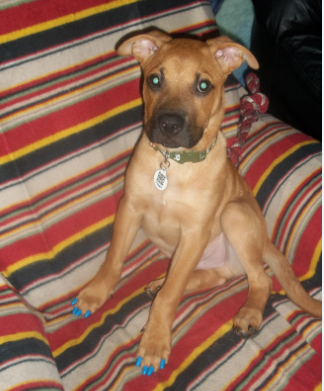 SoftClaws come in packages of 40 and come in many sizes and colors. They're supposed to last 4 to 6 weeks each application. So for $18.95 you will get about a 6 months supply.
We only put the SoftClaws on Bones front paws. We got the X-Large which are for dogs 20 to 40 pounds, Bones is pushing 25/30 pounds, and the nails were a bit big, and they a few of them have fallen off. We have just left them off because the outer ones, are the main ones that would claw at you. Or they fell off because he is a very active puppy.
However, even though they did fall off, I don't feel it was the product. I think either he plays to hard, or they're a bit to big for him still.
SoftClaws are also great for cats! Although, declawing is an option for cats, I don't recommend it. I personally think it's abuse, and that is for many reasons. If your cat was to get out it would have no way to protect itself, and well think how you would feel if someone ripped your nails off. Heck a lot of women go in and get longer ones but on, so declawing a cat is really unfair to them.
P.S my husband and daughter made fun of Bones because I picked the blue ones.
One lucky reader of The Neat Things in Life is going to get their choice of softclaws, whether you want them for your dog, or your cat!