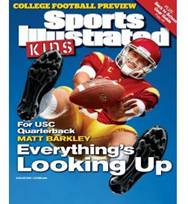 For many families sports play a big role in their children's lives. Sports help children not only stay out of trouble, be active in school, they also do a lot of teaching. They teach our children how to work together as a team, it teaches them that hard work often pays off, and it keeps their hopes up, when thinking about their future.
For the first time EVER Sports Illustrated Kids will be naming a SportsParent of the Year! Are you or do you know a parent that deserves this title?
The SportsParent of the Year title will honor a parent who embodies the essence of sportsmanship! Are you a true SportsParent, do you encourage your child to play their best, and support them and their fellow teammates even if they don't win? Do you let your child know winning isn't everything, and a trophy doesn't mean they didn't do their best? Being a SportParent is a lot more than going to the games, and cheering the child on. It is also about encouraging them to do their best, letting them know it is about having fun, allowing them to show their passion for the sport, and the dedication that is needed for having a child in sports.
When I was younger often times I would hear parents belittle their child if they didn't win. Playing shouldn't be about winning the trophies, it should be about playing the game you love, and doing your best. Winning the trophy is a plus, but you don't need a trophy to tell your child they totally rocked it!
So if you know the perfect SportsParent Nominate them today!
The "2012 SportsParent of the Year" Grand Prize Winner will receive a $1,000 gift card to support his/her child's or community team's sports needs! The winner may also be featured in an upcoming issue of Sports Illustrated Kids magazine and/or on SIKids.com. Deadline for contest entries end 9/24.
Sports Illustrated Kids is offering the August Tablet edition free during the month of August. To take advantage you can use the following information to gain access… Simply download the SI Kids app on iPad or Kindle Fire, and use these credentials to access this latest issue:
·         login: trialissue@sikids.com

·         password: free2012
If you would like both the print and tablet edition you can order a full year for $19.95 just go here.
If you have a young athlete in the family. Don't forget to nominate them for the SportsKid of the Year award. This award is sponsored by Goldfish, and is to honor those athletes age seven to fifteen. So if you know a child who not only shows superior performance on the field, in the classroom and in the community, that is between the age seven and fifteen go nominate them HERE.
 About Sports Illustrated Kids

SI Kids is THE magazine for boys and girls who love sports. It presents sports the way kids want to read about them: with great action photos, easy-to-read stories about star athletes, helpful instructional tips from the pros, and humor, comics, and activities. SI Kids is a great way to encourage kids to read, and it has won highest honors from the Association of Educational Publishers and the Parents' Choice Award.
I will be receiving an SI Kids goody basket and a year subscription to Sports Illustrated Kids in conjunction of this post.