Growing up I had a thing for getting up early in the morning and drinking coffee with my grandparents before they went to work. Now that I am an adult, I attempted to drink coffee; however, when I drink my coffee hot, and drink too much of it I end up in bed with bad cramps. Therefore, I decided to drink my coffee cold.
Before long, I had a bad addiction to Caramel Iced Coffees. I was drinking several of these drinks a day which were adding up in calories. I knew if I wanted to lose weight I had to lose my favorite drink. So out went the coffee and in came the water.
For the past few months I have been drinking mostly water, when in the line at the store instead of grabbing what I once grabbed I grab a bottle of water. Recently, I was introduced to a company that would allow me to have my coffee fix with less calories then my normal Caramel Iced Coffee. I knew I had to try their product.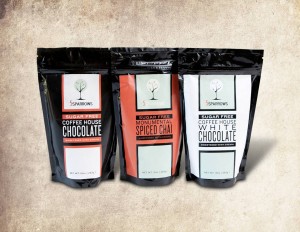 I received several samples in the mail of products from 5 Sparrows, so far I have tried two of them and fell in love! If you are like me, and trying to lose weight while still being able to get in your cold coffee fix, you too will probably like the new line of products from 5 Sparrows'.
Their new line is not only sugar-free, it is also gluten free, and dairy free, which means lower calories. They do use Stevia to sweeten the product, which is great for those of us that need or want our yummy frozen frappes every so often.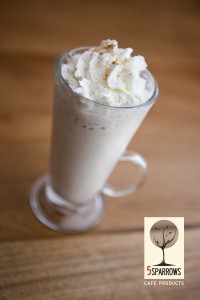 NATURALLY SWEETENED, SUGAR FREE COFFEE SHAKE

Courtesy of: 5 Sparrows (www.5sparrowsbrand.com)
3 oz room temperature coffee
8 oz cup of ice
3 Tablespoons Sugar Free, Stevia-Sweetened Vanilla Frappe Mix from 5
Sparrows
Directions:
Add to blender and mix it up!
My favorite was the Sugar-Free Snow Ghost Frappe! One serving with the coffee and milk was under 150 calories. My normal Caramel Iced Coffee was up in the 800 calories per one I drank. BIG difference in calories there, so not only do I still get my sweet yummy frozen coffee fix, I get it at a lot less calories. Which makes me a very happy momma!
Need you a good coffee fix, but need to watch the calorie intake, I highly recommend the 5 Sparrows sugar-free line. Not only is it cheap, it is yummy.
I received product for review purposes only, no other form of payment was received this is my honest opinion and others may vary.