People often view greeting cards as a way to tell someone happy birthday, congratulations, best wishes, and so forth. They often over look some of the bigger things Hallmark greeting cards can be used for, and that is encouragement and helping to build confidence in our children. With many kids heading back to school it's time use parents do a little shopping too. Yes, we need to get those basics clothes, pens, paper, backpacks, and all the other things out children need.
However, this year also think about stocking up on some greeting cards from Hallmark, that will help encourage your child to do their best, and to help them build that confidence that is needed to get through another year. Hallmark has a great selection of kid-appropriate cards, on many different topics. Sometimes all it takes to brighten out child's day is finding a special note from mom or dad while at school. It wasn't long ago when I to was in that scary school setting. My mom always made us special salads to take to school with us to let us know she cared.
Recently, I had the pleasure of working with Hallmark again. I have always loved Hallmark, their cards, their products, and even their movies. So when I was contacted of course I said yes. I would be a fool if I said no! Have you seen their products?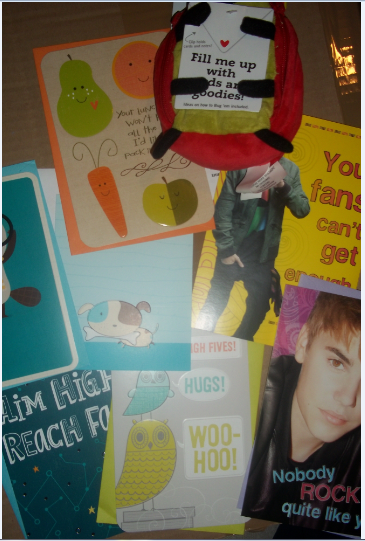 We received a Back-to-School care package, these cards will come in handy. Even though we do home school, I like showing my daughter how awesome she is. By letting her know this it helps build her confidence and with a built confidence means my child will know that no matter what she can be and do ANYTHING she sets out to do.
That is why it is so important that we as parents show our children the encouragement they need. We are building that wall of confidence up, and once they become adults, NO ONE will be able to knock that wall down.
Hallmark is going to help on of you get started with building up that wall for your own child. One lucky reader of The Neat Things in Life is going to also get a back-to-school care package from Hallmark! This is a great way to get the back to school season off to a great start!
The care package will include:
· A pack of Hallmark's Kids Collection greeting cards which feature kid-appropriate topics, from managing difficult academic or social situations to achieving a personal goal either in the classroom or on the field.
· A few of Hallmark's "any day" greeting cards for kids featuring music sensation Justin Bieber.
· Lunchbox Notes, which offer 50 ways for you to add a little love to lunchtime.
· Bug'Em, a pint-sized plush that can hold cards and other tokens of encouragement and give an unexpected lift to any youngster's day.
Giveaway is open to US residents only
I received product for review purposes only, no other form of payment was received.