We recently had a scare with our puppy. Although we took all the steps needed to assure he was safe, he ended up getting into the room where we had mouse poison out. He ate some and within minutes we had him throwing it back up. So now I refuse to have any toxic chemicals at level where he can get to them in any room of the home.
With having a puppy means messes on the floor. While he is potty trained he still has that occasional accident if we're sleeping, and he has bad anxiety so if we leave for a short period we come home to several accidents.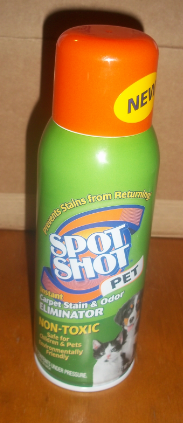 I was glad when I seen Spot Shot just released a new non-toxic pet aerosol. This means not only can I use it on his accidents, he will not get sick if he happens to come in contact with it. The new formula was designed to not only permanently eliminate old and new stains, but also to neutralize and absorb the odor! Nothing I hate worse then walking into the house after Bones has peed on the floor and smelling nothing but pee.
The new Non-Toxic Spot Shot Pet formula also has a anti-resoiling protection that will keep the stain from returning. It has been proven to out work the other brands when it comes to removing some of the toughest stains such as urine, feces, and vomit. With Bones having an anxiety problem this is one product we will be keeping around. The first time we used the product my husband noticed right away it was working better than the cheaper product we already had. Since receiving the product for review it is the only product we will now use.
Bones has not had many accidents; however, the ones he has I am glad the new spot shot took the smell from the carpet. I tried it on this blue stain on my carpet, no clue where it came from, because it wasn't there when I cleaned the rugs…
I still have no clue what this is, but it's pretty deep into the carpet. I am going to have to keep spraying the spot shot on it so that it keeps coming to the surface.
If you have a pet I highly recommend the Non-Toxic Spot Shot Pet Aerosol, it will save you from having to haul out the carpet machine whenever your pet doesn't make it outside in time.This product is currently only available at Wal-mart in 14 ounce cans. Prices will vary depending on your store, one of my local stores sells it for $4.44
One lucky reader of The Neat Things in Life is going to have a chance to win a $25 Wal-Mart gift card to purchase the new Non-Toxic Spot Shot Pet Aerosol, so they can try it out for themselves, you will not be disappointed.
Giveaway is open to US Residents 18 an older
I received a gift card to purchase the above product, all opinions are my own and others may vary.