This summer has been extremely miserable all over the US. I know several areas were hitting record temperatures. My family attempted to enjoy the outdoors while in the swimming pool; however, even that was miserable. What do you do when it's too hot/cold to be outside? We grab some popcorn, kick up our feet, and enjoy some great movies.
Recently, we received some great movies to review as well as some yummy treats.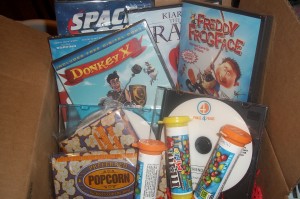 Phase 4 made a kick off in June and continued through August some of the titles released were Kiara the Brave (June), Space Dogs (June), Smitty (July), Freddy Frogface (July), Donkey X (July), My Friend Bernard (August), and Rockstars (August). All movies are available at locations such as Target, Walmart, Amazon.com, and your favorite Redbox location.
My family has watched Smitty, Space Dogs, and Rockstars so far. I have to say my favorite out of the ones we have watched is Smitty.
Smitty reminded me of my family when we were growing up, being raised by a single mom, and I know use girls were a handful. I am sure at times, she wished she could send us away to stay with family why she got a break, and we learned to appreciate things in life. I found Smitty to be a great film that not only shows family, friendship, and responsibility, but also one how to love.
With us getting a dog not long ago, we as a family can somehow relate. I could also tell my daughter was enjoying the movie. She loves movies about dogs, and has watched Smitty a few different times. I thought Rockstar was more of a younger kid movie; my daughter didn't seem that interested in it, I know my niece will love it though, because she has a thing with worms.
Space Dogs was another great movie. With us being homeschoolers, it's great to find movies that are based on true stories. Space Dogs is one of those movies. It's based on events that took place in 1960 when two dogs Belka and Strelka made their journey into space. I have a thing for movies that have meaning to them, and do more than entertain a child. For a while, it seemed like all the movies that did come out were geared as babysitters for our children, instead of movies with a meaning that taught our children certain values!
Kaboom currently has a great Pin It To Win It Sweepstakes going on right now, this sweepstakes ends on August 31st!
We received product for review purposes only, no other form of payment was received. This is our honest opinion and others may vary.