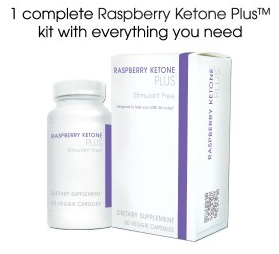 Not long ago I was watching Dr. Oz when he was talking about Raspberry Ketone. With being so much over weight, and my knees being a big issue. I have tried all sorts of different weight loss aids. I call them aids for many reasons. In order to lose weight and keep it off you need to work at it, there is no miracle pill out there that will make you drop the pounds and look like a super model. Oh how I wish there was, because I would be in heaven. BUT chances are I would gain all that weight back plus more. Over the years I have learned unless I am having to work to drop the weight, I will not appreciate the weight loss, and I will gain it all back.
Although, there are no miracle pills there are several great products out there that will help aid you in losing the weight. These are weight loss supplements, and they aim to help you in different ways. Some will help reduce your appetite, while others will help your body metabolize fat easier.
Raspberry ketone is one of those supplements that helps your body metabolize fat easier. It is made up of several products that have been known for their great health benefits. Such as apple cider vinegar and grapefruits. This supplement is designed to help your body burn fat, and help the sugars and fats get through your system without being absorbed or stored. This does not mean you can eat whatever you would like as long as you're taking the pill.
It is recommended you eat a healthy well-balanced diet, and drink lots of water, in addition to taking the Raspberry Ketone supplement, by doing this you will help your metabolism and the end result will be weight loss. I have been taking stimulate free version of the raspberry ketone because my body cannot handle much coffee. I have been taking these pills for almost 3 weeks now. I have not been working out as much as I should, but I have been eating healthy and drinking lots of water. I have noticed I am losing weight and a nice rate, not to fast and not to slow.
I have not noticed any bad side effects while taking them. If you need an aid in losing weight I do recommend Raspberry ketone, if you want the pill to deliver larger results you have to not only eat better, drink more water, but also move more. The Summer heat has made things a bit rough to move more.
You can purchase Raspberry Ketone with or without the green coffee bean extract at CreativeBioScience.com
Remember, although the pill will help aid you, in the end it's up to you on how much is lost, and how much stays off. Going back to old ways after losing weight should never be an option. Healthy eating should be a lifestyle change, not an only until I lose weight change.
I received the product for review purposes only, no other form of payment was received, this is only MY experience with this product and others will very. No two people are the same.