Can you believe the T-fal's Healthy Summer Challenge has come to an end! I loved sharing all my tips with everyone of you on what my family and I are doing to live a healthy lifestyle. While at first it wasn't easy to transform, I am glad we did when we did, so my weight didn't continue to get out of control, and so I could teach my daughter to be healthy.
I sure didn't want her growing up thinking it was normal to cook from a box, and to eat processed foods.
So today I bring you tip five of five.
Tip #5  for T-fal's Healthy Summer Challenge, set a long term goal!
Often times when we are trying to lose weight, we go back to our old ways once our goal weight has been reached. However, by me setting a long term goal, this will allow me to keep my weight in check. Our weight isn't something we can turn on and turn off, we have to continue to exercise, eat healthy, and drink water.
By the time I am to my goal weight, I will know proper portions, I will know how to properly eat sweets and not go overboard. By switching to a healthier lifestyle verses going on different diets, I know I will continue to have success. Where if I were to diet so that I could lose weight, chances are I would gain the weight back I lost while I "dieted".
I now view diets as a way to gain more weight. So if you want to put some weight on go on a diet, if you want to keep the weight off, change the way you eat. It is a lifestyle change, diet don't work but lifestyle changes do!
I have learned so much, thus far into my journey and I know I still have a lot of learning to do, I know in the end the results I find will be well worth everything I have learned, and all my trials and errors.
Did you know spicy foods rev up your metabolism? Yup they sure do that is why it is great to cook with some spice. Today is also National Hot and Spicy Food Day, what better way to kick off the day and wrap up this challenge than with a Hot and Spicy recipe right?
For the healthiest version of this recipe it is recommended that you make it in the ActiFry
Amy Sherman's Spiced Chickpeas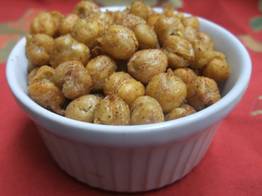 115 ounce can garbanzo beans
2 cloves garlic, peeled and smashed
1 scoop olive oil
1 teaspoon chili powder
1/2 teaspoon cumin powder
salt to taste
Rinse, drain and dry the garbanzo beans with paper towels. Add the garlic, olive oil and garbanzo beans to the Actifry and cook for 30 minutes. Transfer to a bowl and discard the garlic. Add the chili and cumin and toss to coat. Taste and season with salt. They are best served fresh, either hot or warm.
I wrote this blog post while participating in the T-Fal Healthy Summer Challenge blogging program for a chance to win a T-fal ActiFry or additional cookware.