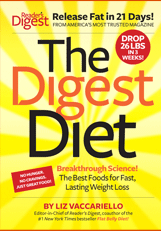 Often times the reason we struggle to lose weight, is because we have no idea where to start. These past few months I have used a few different books as a reference tool. These books helped me know what foods to pair together so I not only got a meal rich in flavor and nutrients, I also got a meal that helped me release those fats instead of allowing my body to store them.
I personally feel one of the main keys to losing weight is knowledge. The more we know the better chance we have at being successful. With having struggled all my life with my weight, I am slowly learning how to not only eat healthier, but to also cook healthier.
Most the time when we think about losing weight we think of foods that have no flavor. In The Digest Diet, Liz Vaccariello teaches us how to add those flavors to those meals that will benefit us. Herbs and spices have so many great health benefits that healthy eating shouldn't be flavorless.
The Digest Diet has over 50 recipes that your whole family will enjoy. I have made several of these recipes and they were a big hit. My daughter is a picky eater at times and she loved some of the recipes in the digest diet book. She kept saying she couldn't believe that was "diet" food. You'll also find exercises that you will be able to do with step by step instructions on how to do some of them. I have bad knees and these exercises I could even do! This book shows you how you can get the most out of your works in as little as 12 minutes.
I didn't carry this "diet" out for the full 21 days, although a lot of the products in the book are budget friendly, for me it's hard to have certain foods in the house the other family members cannot touch, and them having foods in the house you want to touch. Although, I didn't follow it to the T I did keep up with the shakes. I love these shakes and to this day, I use them as a meal replacement shake.
I feel the Digest Diet Book, is a great guide to help those wanting to live a healthier lifestyle, but not sure where to start. Not only does it offer you all those great recipes, it also gives you the tools and knowledge you need to make your own healthy recipes with the foods you love. Losing weight shouldn't make you gag when you think about the foods you have to eat, if you don't like the foods chances are you will go back to eating the way you ate before.
There is also a great support team on the Digest Diet's facebook page, a lot of those doing this diet are encouraging one another!
Fast Release Shake (Days 1–4)

Hands-on time: 10 minutes • total time: 10 minutes • Makes: 1 shake
Fat Releasers:
Yogurt, coconut milk, fruit/fiber, healthy fats, honey
Master Recipe:
· 3⁄4 cup (6 ounces) nonfat yogurt
· 1⁄4 cup light coconut milk
· 3 tablespoonsnonfat milk powder
· FRUIT/FIBER HEALTHY FATS
· 2 teaspoons honey
· 1⁄2 teaspoon vanilla extract
· FLAVORINGS (optional)
· ice cubes combine all the ingredients
· in a blender and blend until nice and frothy.

A typical shake:
• 395 calories • 16g protein
• 18g fat (5g saturated)
• 9.5g fiber • 430mg calcium
• 40mg vitamin C
• 50g carbohydrate
• 210mg sodium

FRUIT/FIBER (choose 1)
· 1 banana
· 1 apple (peeled and cored) + 1 tablespoon flaxseed meal
· 8 strawberries (fresh or frozen) + 1 tablespoon flaxseed meal
· 4 ounces mixed frozen berries* (3⁄4 to 1 cup,depending on the berries' size) + 1 tablespoon flaxseed meal
· 3⁄4 cup seedless red grapes* (10 large) + 1 tablespoon flaxseed meal. omit the honey.
· 1 tangerine or small orange* + 1 tablespoon flaxseed meal

HEALTHY FATS (choose 1)
· 1⁄2 avocado
· 1 tablespoon natural peanut butter
· 1 tablespoon raw or regular almond butter
· 1 tablespoon tahini
· 1 tablespoon sunflower seed butter

FLAVORINGs (choose none, 1, or both)
· 1 teaspoon unsweetened cocoa powder
· 1⁄4 teaspoon ground cinnamon
You will find yourself wanting more of these shakes! My favorite was the banana with peanut butter, and strawberry with dark cocoa. You can find out more about The Digest Diet, the great success stories, and even some great recipes all on the website at DigestDiet.com
You are the main factor in losing weight, no one can make you do it, you have to want to do it before it will happen. I would highly recommend this book to those like me who are strugglers.
I received The Digest Diet for review puposes no other form of payment was received, and I will continue to use this book as a reference while I work on meeting my goal weight.