How many of you grew up in the 80's? I did and I have to say I miss it sometimes, some of the kids shows cannot even compare to the ones we had back in the day. Some of my favorites included shows like Punky Brewster, Webster, Alf, Married with Children, Full House, Saved by the Bell, and the list goes on and on. When my daughter started showing interested in some of the shows I watched when I was younger, I was pretty excited. One of her favorites is Full House.
Not to mention all the characters that are coming back to life such as Rainbow Brite, Raggedy Ann and Andy, My Little Ponies, Hello Kitty, and again the list goes on! I have to say the 80's were great. So when I was contacted and asked if I would be interested in checking out 80stees.com, I jumped on it!
With my daughter's birthday coming up I had to see what they might have that I knew she would love, so of course I did a search for Hello Kitty, and I was excited to see they had a few different items that I knew she would love! My daughter loves playing games, and my favorite game is yahtzee, so I knew this would be a win win. The Hello Kitty Yahtzee game would make her happy because it is Hello Kitty, but also because it is a game the whole family can play and not get board.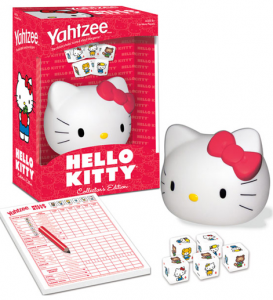 Once re received this we had to check it out! I love the little characters on the dice, and the cute little shaker. With the shaker you can store the dice and score pads inside the head and then it makes for a great novelty item on my daughter's dresser.
The Hello Kitty Yahtzee was a big hit!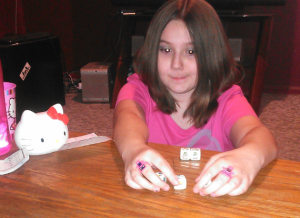 But that isn't all we were also able to check out one of the Hello Kitty tees. It wasn't until recently she got into this Hello Kitty phase, I have to blame this one on her cousin.


I found the shirt to be very well made, and super cute! If you love the 80's I highly recommend you check out everything 80stees.com has to offer. With the holidays coming up they have some awesome items that would be perfect for gifts, and I also found there products to be very responsibly priced.
We received product for review purposes only, no other form of payment was received.