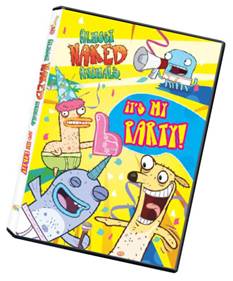 Soon Volume 1 of Almost Naked Animals will be available on DVD. How soon? September 25, 2012 to be exact. If you have yet to here about the Almost Naked Animals let me fill you in. The Almost Naked Animals is a top rated animated series for children age 6 to 11. This series is on the Cartoon Network and  created by Noah Z. Jones the creator of Fish Hooks.
It takes place at a beachfront hotel, Banana Cabana and is managed by a fun-loving but hospitality challenged Howie. Which makes for a very interesting show. You wouldn't think a cartoon based on a bunch of animals running around in their underwear would be funny. However, I found myself laughing at several different points while watching with my daughter.
When I think of the animals running around in their underwear, I think back to when my daughter was in that stage and some of the crazy things she did!
In addition to the DVD hitting shelves on the 25th of September many other great things will also be happening revolving around the release of The Almost Naked Animals, you will also be able to find The Online Super Game on their website, as well as a new online store. In this store front you will be able to purchase items featuring Almost Naked Animals, such as t-shirts, notebooks, tote bags, and even huggable plushes.
I can see Almost Naked Animals going place, and I can see it becoming a bigger hit than it is now. To learn more about the Almost Naked Animals be sure to visit their website, and keep an eye out for season 3.
You can purchase Volume 1 at retailers such as Target on September 25, 2012. Retail price is $6.99
I received product for review purposes only, no other form of payment was received.