One thing I dislike about being female is the fact I have to shave often. It seems as soon as you shave it off, it is growing out of control again. However, I will be honest, during the winter months I don't shave nearly as much as I do during the summer months. With my daughter getting up there in age, and her legs are becoming pretty hairy, I know it is a matter of time before she asks if she can shave. I want to hold off on this as long as I can, because I know once she starts there is no turning back.
I also want to make sure she has the perfect products to make her first time shaving experience a good one. Sure don't want hers to be like mine, my legs looked like I played in the picker bush with shorts on. Not fun!
Not long ago I had the opportunity to check out the BIC Soleil Savvy razor. I loved how the razor just glided up my leg, I didn't even nick myself! Score! This was a plus I always manage to get at least one cut while shaving. I have this thing where I like to speed shave. This leads to some bleeding.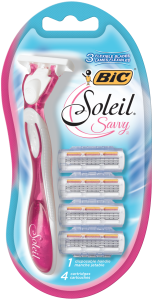 The BIC Soleil Savvy razor is great for those tweens that are just starting out. The package comes with the disposable handle and four refillable cartridges. With one blade I have been able to shave my legs several times. I like when a razor lasts a while, because they can be pretty expensive at times, I want to get my monies worth out of them. Each cartridge has three flexible blades which makes for a flawless shave, I have yet to get cut, and I am a quick shaver. They also come with a lubricating strip enhanced with Vitamin E, which will leave your legs feeling smooth.
I would have to say my favorite part of the razor is the actual body. It has a pivoting head and a rubber grip which makes using the razor easier. With being a quick shaver, I need something that will work with me not against me. I don't want to get out and have patches of hair I missed, or blood running down where I went to fast and received a nice so nice cut. When it comes time for my daughter to pick up a razor for the first time, I know the BIC Soleil Savvy will be the razor I purchase her.

Not only is it a brand we trust, but after testing the product out for myself it is also a product we can trust. BIC is giving away 5 BIC Soleil Savvy razors to 5 lucky readers of The Neat Things in Life!
Giveaway open to US residents 18 and older.
I received a sample for review purposes only, no other form of payment was received.