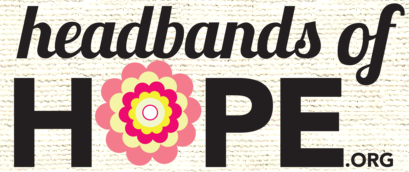 With the holidays coming up, I like to find companies that give back. I am a strong believer that if everyone does their part at giving back we can make a big difference. Sometimes all it takes is left over change while going through the drive-thru, or to purchase one of those $1 donation items at the check out at a local store.
I often find myself purchasing them even if I really don't have that $1, because I never know when I will be the parent of a sick child. I pray that, I never have to deal with my daughter having the evil sickness, but there is never a promise your child will not get sick, there is never a guarantee evil will not knock at your door. If I were ever in a spot where my daughter was deathly sick, I would hope others would come forward and offer some sort of help to find a cure.
I was recently introduced to headbands of HOPE. With having a father in law pass from cancer, and not living far from St. Judes, I new this was a company I wanted to learn more about. I learned the company was created by a college senior who was only 22 years old, and the reason behind the company was to help young girls who had cancer. Jessica, the founder of headbands of HOPE seen first hand how much chemo affected the girls self-esteem and confidence. I can only imagine because I myself have self-esteem issues, and I am an adult.
Jessica wanted to help boost the girls spirit and give them their confidence back when they looked into the mirror. This inspiration led to headbands of HOPE. This is an organization with a mission, a mission to not only spread hope to these girls that never asked to be ill, but also a mission to help fund research for childhood cancer, and she plans to do this one headband at a time.
The headbands come in four different styles and range in price. For every headband that is sold another one is donated to a girl with cancer, and $1 is donated the St. Baldrick's Foundation to fund life-saving childhood cancer research. So when you're looking for the perfect gift this holiday season check out
headbands of HOPE
, and put a smile not only on your child's face, but a smile on another child's face that is battling for her life.
We were able to check out one of the headbands firsthand. I have to say not only was I impressed with the headband, but I was impressed with the whole organization. I am sure Jessica's family is so proud of her!

I think the headbands are beyond adorable, and I know they will bring many smiles to these young girls face that are having to battle something that we should have a cure for.
Thanks for Jessica over at headbands of HOPE 3 lucky readers of The Neat Things in Life with each win 3 different headbands.
Giveaway is open to US residents only.
I received product for review purposes only.