If you have been following The Neat Things in Life, then you know I have been living a healthier lifestyle. While I try my best to stay on track I do sometimes side step. I am only human I am not perfect, and I am doing this weight loss thing somewhat solo. I can say I am proud of my progress so far even though I have made some mistakes a long the way. With living healthier I have been adding more meal replacement shakes into my diet. These shakes allow me to get several nutrients that my body needs, that I wouldn't get if I didn't add the shakes to my diet.
Not long ago, I had the opportunity to check out a company called Linwoods. Until recently, I had no clue about this company, I am glad I know who they are now! Linwoods is based in Northern Ireland, and it was established in 1965. It is a family owned company that manufactures a wide range of healthy foods. They have products ranging from premium bakery items, to fresh dairy, and even healthy super foods.
I never new what a super food was until I started this living healthier kick. Linwoods gets their products from the best suppliers and growers from around the world. All the ingredients are natural, organic and will make your body happy!
I noticed a huge difference in my body when we started eating better. I felt better, because my body was actually getting the nutrients it was lacking. If you feel sluggish your body is lacking something!!! Changing my eating habits did a lot for me!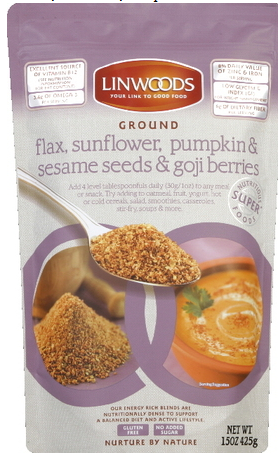 We were able to check out the Linwoods Ground Flax, Sunflower, Pumpkin & Sesame Seeds & Goji Berries! I love this stuff, I love adding it to my meal replacement shakes! I noticed by adding this to my shakes I have more energy. My husband even likes it, so that is a plus. I would like to make some meal replacement bars, and add it to them.
If you are trying to live a healthier lifestyle, I recommend you check out Linwoods products, you can find them in specialty stores on the west coast, or you can order them online.  Visit www.linwoodshealthfoods.com for extended company history, health benefits and product descriptions.
I received product for review purposes only, no other form of payment was received.