With the holidays fast approaching it is time to start thinking about what to get those we love for Christmas. The newest trend that has been spotted around Hollywood is Not Just Any Old Day jewelry. The Not Just Any Old Day line includes personalized date charm bracelets, rings and necklaces. This line of jewelery has been spotted on celebs such as Janina Gavankar, Carolyn Hennesy, Jason George, Tracey Heggins, Scott and Renee Baio, Marilu Henner, and Antonio Sabato, Jr. (my fav since General Hospital days).
I had to see what all the hype was about, so when asked if I would be interested in reviewing the product I had to say yes! I mean if  Jagger Cates aka Antonio Sabato Jr. was sporting this trendy piece I had to as well! I have been a huge fan of General Hospital since I was about 9 years old.
About Not Just Any Old Day:

Not Just Any Old Day helps you celebrate your special day with their "Your Special Day" Calendar Key line of pendants, bracelets and rings. A "Your Special Day" item is the perfect way to keep a wedding, anniversary, birth date, birth of a child, or graduation date close to you always. Featuring a beautifully inscribed calendar marked with a special date and stone of your choosing and available in various finishes you'll love your personalized treasure!
I decided to get the Your Special Day Calendar Key Necklace with my wedding anniversary on it. My husband and I have had our ups and downs, but it doesn't matter because he will always hold the key to my heart. I married my husband to death do us part and no matter what life throws at us, it will be until death do us part.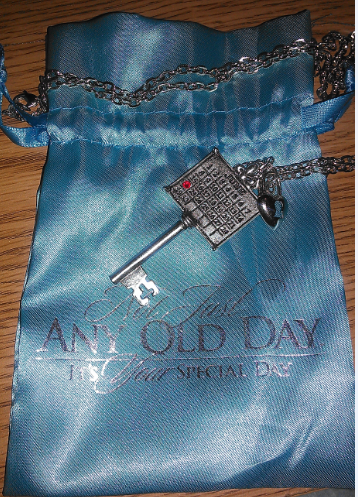 My first impression when I received the necklace was "Wow" I absolutely adore this necklace, and I see why the celebs do as well. I would love to see the company make it where you can have more than one key for a discounted price, even if those additional keys were smaller. A big one for anniversary then smaller ones for children/grandchildren birthdays. Or even a heart for the main  calendar and small keys with dates for the other, because more than one person holds the key to my heart.
Over all I love the necklace! The Not Just Any Old Day line would be great under the tree for those special people in your life.
If you would like more information about Not Just Any Old Day check out their website at: http://notjustanyoldday.com/. You can also like them on Facebook and follow them on Twitter and Pinterest.
I received product for review purposes only no other form or payment was received. This is my honest opinion and others may vary.