I am a bit behind when it comes to cellphones. Last year we did have texting, but certain things happened and I had to cancel it. We have never had an actual data plan for longer than a day. With our current cellphone carrier we were allowed to use a smartphone like phone at first, then they decided to make some changes. After these changes they decided to add a data plan to our phones, I called and did some fussing the reason for using the phones was because of the keyboards. We used them for texting only, I mean we had internet at home we didn't need a data plan when we could use wifi.
After them looking into it, since we had the phones/service before the change we were allowed to keep our current phones. Let me show you the difference between the old cell and the new cell.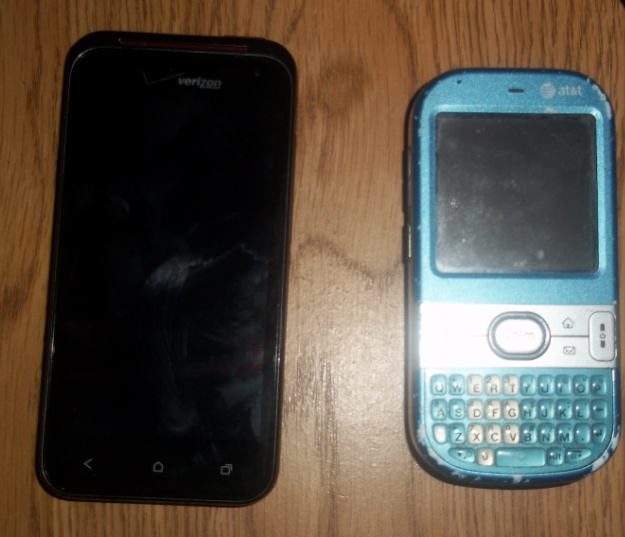 The old phone has a camera, but I have no idea how to use is, we only used them for texting and really nothing else. When I was at the webinar for the HTC Droid Incredible something was brought up, and I giggled a little. It was stated that one normally spends more time with their cell phones then with anything else. At the time I was not included in the group of people that spent the most time with their cellphones.
To be honest, when I did go places I often left the phone at home on purpose, I mean look at it, we purchased it used, and it is pretty scuffed up. I have no data/texting on it so I seen no point in taking it.
With the new phone, I don't go no where without it, not even to the bathroom.With its built in GPS I will never get lost again! It has all my lists on it, I can check my email on the go, someone has an urgent message for me a simple text and I have it.
I have found so many great apps that have literally made my life easier, such as the Out of Milk app, or the GrooVe IP app.
Although, I do have an unlimited data plan with the new phone, my data usage is pretty sad. I have only used 0.083GB in the almost three weeks of having the phone. I use mostly wifi when I am home, because we don't really get great signal. I get better signal with Verizon then I do my current carrier which is a good thing. I would like to see about getting a signal booster to see if that makes a difference.
Having the HTC Droid Incredible has truly changed how I do almost everything! No more paper lists, no more writing down my recipes, no more missing appointments, no more forgetting to take my meds, no more missing important emails while I am away from home, no more being bored while waiting at the doctors office, and most important no more getting lost!
I cannot believe I have been living in the stone-age for so long!
Do you have a smartphone? If so how has it changed your everyday life?
Disclosure: I am participating in the Verizon Wireless Ambassadors program and have been provided with a wireless device and three months of service in exchange for my honest opinions about the product.