I love sugar cookies, my husband on the other hand isn't a huge fan so we don't make them often. Every so often I will pick some up at the store, and my daughter and I will eat them. I have heard so much about SmileyCookie.com when I was emailed asking if I was interested in a review, I had to say yes. I would have been foolish to pass up on the chance to taste their sugar cookies. I love the ones that almost melt in your mouth, and find myself going back for more oops.
SmileyCookie.com has cookies for all different occasions whether you are looking for gift for dad, mom, grandparents, or even your teacher SmileyCookie.com has you covered. Whether you are wanting just their delicious cookies, or you are wanting to get a gift basket you will be pleased.
We were able to check out their Cookies and Coffee Gift Basket, which included Gourmet Coffee, Travel Mug and Sugar Cookies. This gift basket cost $37.99 and would make a great gift for a teacher or one working in the office.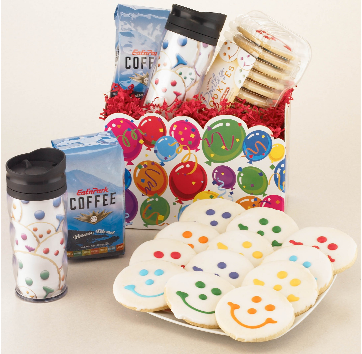 I have to say these are the best sugar cookies I have ever had! Once they were gone I wished I had more, the coffee also helped me get my day off to a great start. With being home schoolers, my day can be pretty hectic, so I often need a cup of coffee to jump start my day, I drink my coffee iced, through the blender. Yummy. Another thing I like is the fact all their cookies are baked in PA and are hand iced. What does that mean? It means you will receive better product because their not mass produced via machines.
Do you got a special occasion coming up? I highly recommend SmileyCookie.com. Not only are they reasonable on their prices, their cookies are also out of this world. SmileyCookie.com currently has a special going on, they're offering 10% off to say thank you for visiting them. Just use the code SPRING2 at checkout, please remember this is not good for gift cards.
 I received samples for review purposes only, no other form of payment was received. This is my honest opinion and others may vary.