With everything currently going on with Libya I wouldn't be surprised to see the price at the pump sky rocket. I can say I am thankful to be in an area where the prices have stayed pretty stable. I don't understand how one area can be over $4 a gallon or close to that, and others be just above $3. About 5 miles from my home at a local Kroger gas is $3.65. However if I go to the next town over gas is $3.36, a store less than 2 miles from me is $3.79.
I had no intentions on getting gas right this minute. However, I didn't want to take a chance with the price skyrocketing due to price inflation with the mess going on in the world today. Off I went to Walmart to get some gas, I had $27.95 left on a Walmart card so I used it, sad to say it only gave me 3/4 of a tank when I already had almost 1/4.
Since I used the gift card to get gas I only paid $3.26 a gallon!!!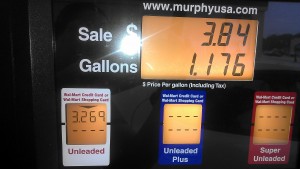 Again, how can gas be a lot cheaper at one place and almost $1 higher else where. I am wondering if maybe Walmart is taking a loss to help people out at the pump.
What is the price where you are?