Going from a standard cell phone to a more techie cell phone can become a bit overwhelming. While you want to learn everything there is to know about your new device, you can often forget how you did a certain thing. With these higher tech devices I personally feel it is important to know how everything works. You want to get the most out of your device, after all it will be like your best friend.
Luckily I was able to attend the Webinar for the HTC DROID Incredible, this taught me so much. I was excited to learn about the HTC gesture. HTC gesture doesn't come turned on by default, you have to go into your phones settings, display & gestures, and check the HTC gestures, this will allow you to move your fingers across letters to type it out. Works great, and I find it to be a bit faster than typing. My fingers tend to hit other letters, so I end up hitting back often. HTC gestures makes it all a bit easier, and I love it!
I never experienced Verizon service until recently, I am utterly amazed with their service as well as the help and the workshops they have. I don't believe my current carrier offers all the help. Matter of fact I know they don't. I have had many issues with my current carrier, and to be honest when I run into a problem I personally expect the matter to be resolved fairly fast not when someone gets around to it.
That is one great thing about Verizon, they have great customer support. Need help? Hit up @VZWSupport on twitter. Unless it's past hours, you will get help pretty fast. If you are wanting to learn more about your device you can hit up Verizon Wireless Workshops via online, or in the store. I have never seen such support with a cellphone carrier.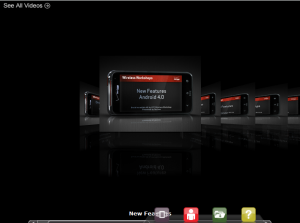 As I follow the other Verizon Wireless Ambassadors on twitter, I notice a lot of them talking about how amazing the battery life is on the HTC DROID Incredible. I have not been seeing how incredible the battery life is, so I decided to attend an online workshop, I wanted to learn or figure out what I can do to help with my battery life. I loved the step by step instructions, on certain things I can do to get the most use out of my battery. I was able to shut off certain notifications, so hopefully my battery life will be just as incredible as the other HTC DROID Incredible users.
I am still working my way through the other videos for the HTC DROID Incredible to check out what I may have missed. If you're ever wanting to learn more about your Verizon Wireless device, I recommend you check out their wireless workshops. They're very detailed and you can always "rewind" if you happen to miss something.
Disclosure: I am participating in the Verizon Wireless Ambassadors program and have been provided with a wireless device and three months of service in exchange for my honest opinions about the product.