With football season in full swing it's time to show off your favorite college football teams colors. Recently the FTD made showing off those colors a lot easier! Now you can get Roses in the color of your favorite college football team. They currently offer college football colored roses for over 50 different teams, and plan to have more added by the end of the year.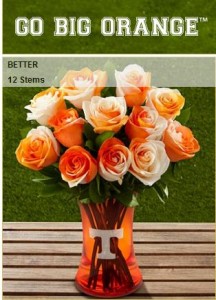 I have never been one to pass up the chance to review flowers of any type. I love having a fresh vase of flowers on the kitchen table, I think it makes my home more welcoming. So when I was asked I jumped on it, I was wanting to get Michigan ones because I am a Michigan Girl. However, I new I would get a bigger response from family and friends going with the VOLS everything is white and orange around these areas.
Sure enough I got a response… EVERYONE wanted my roses. The fedex guy said his boss wanted to take them, my brother in law and his wife they fell for them, and my husband's friends they were wanting to buy just one from me.
College football is huge here in TN.
With all the homecoming games going on now is the time to scoop up some of these beautiful roses and show your support!
If you order through this LINK you can get $15 off.
My personal thoughts were the roses were beautiful! Love the smell, love the colors, loved the vase. When they die I will be hanging them to dry.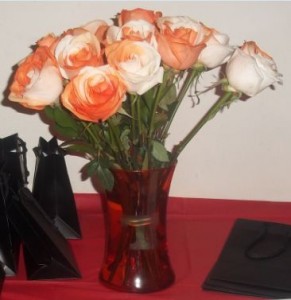 Floral arrangements of six stems are available for $49.99; arrangements of 12 stems for $89.99; and arrangements of 24 stems for $129.99. Next day delivery is generally available.
One lucky reader of The Neat Things in Life is going to have a chance to win roses in their favorite college team colors!
Giveaway Open to US Residents Only
We received product for review purposes only no other form of payment was received.